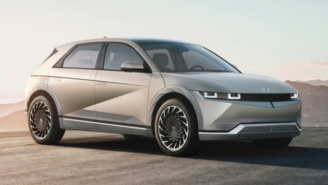 The all-electric 2022 Hyundai Ioniq 5 is poised to go on sale before the end of the year. When the retro hatchback arrives at dealerships, it will carry a starting price of $40,925 (with destination) with pricing topping out at $55,725. That pricing puts the Ioniq 5 in line with the Volkswagen ID.4, Ford Mustang Mach-E, and Kia Niro EV.
That starting price is for the SE Standard Range trim that won't be available in the U.S. until next spring. The SE Standard Range trim comes with a single electric motor on the rear wheels that makes 168 horsepower. Hyundai claims the vehicle has a range of 220 miles thanks to a 58-kWh battery pack. At the other end of the lineup is the Limited trim, which has two electric motors for 320 horsepower and all-wheel drive. Range for that model tops out at 256 miles. In the right configuration, the Ioniq 5 can travel up to 303 miles because of its 77.4-kWh battery pack.
On pricing alone, the Ioniq 5 compares well to the ID.4, Mach-E, and Niro EV. The ID.4 costs $39,995, Mach-E is priced at $44,995, and Niro EV costs $41,165. Just like the Ioniq 5, these vehicles are also available for the full $7,500 federal tax credit. These vehicles offer more range than the Ioniq 5 in their base layouts, as the ID.4 can travel up to 250 miles, Mach-E has a range of 230 miles, and the Niro has a range of 239 miles. Vehicles like the 259-mile Chevrolet Bolt EV ($31,995) and 150-mile Nissan Leaf ($28,375) cost less than the Ioniq 5.
One of the upsides of going with the Ioniq 5 is that it offers ultra-fast charging by being able to go from 10% to 80% of range in just 18 minutes thanks to 350-kW charging. The Ioniq 5 also has a "vehicle-to-load" system that lets it charge other electric cars, electronics, and small appliances.
With a higher starting price tag and more range than its main competitors, we think the majority of consumers will choose the Ioniq 5 over other options because of its design and lengthy list of standard equipment. Either way, it's still an exciting vehicle to join the expanding segment.
Learn More About the Hyundai Ioniq 5
Pictured: 2022 Hyundai Ioniq 5