Unless you move up to compact and midsize SUVs from Germany, there aren't a lot of sporty, affordable subcompact SUVs on the market. The Hyundai Kona N looks to change that, creating and competing in a segment of its own. When the 2022 Kona N goes on sale before the end of the year, the subcompact SUV will start at $35,425 with destination.
That price tag makes the Kona N only $400 more than the Veloster N when it's fitted with the optional eight-speed dual-clutch automatic transmission. That's the only gearbox available with the Kona N, which also comes with a turbocharged 2.0-liter four-cylinder engine that makes 276 horsepower and 289 pound-feet of torque. The turbocharged engine in the Kona N produces more power than the Veloster N's engine, which is rated at 275 hp and 260 lb-ft of torque.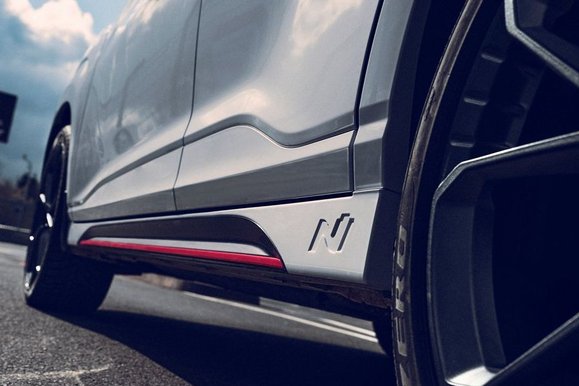 For a high-performance subcompact SUV, the Kona N is priced relatively affordably. The Kona N doesn't have any real competitors and it's right on par with what we thought the vehicle would cost. On top of the Kona N's firecracker of an engine, the subcompact also comes with upgraded brakes, adaptive suspension, an active exhaust system, an electronic limited-slip differential, and every safety feature that the Kona comes with. So, consumers are certainly getting their money's worth.
If anything, the Kona N's closest competitors include the Mercedes-AMG GLA 35 and BMW X2 M35i. The AMG GLA 35 costs $48,600 and has a turbo 2.0-liter four-cylinder that produces 302 hp, while the X2 M35i is priced at $47,445 and comes with a 301-hp turbocharged 2.0-liter four-cylinder. Unlike the AMG GLA 35 and X2 M35i, the Kona N is front-wheel drive only.
With the introduction of the Kona N and Elantra N, which hasn't been priced yet, Hyundai's on a roll with its N-badged models. We expect the latest vehicles to offer the same peppy performance as the Veloster N that came out in 2019.
Check 2022 Hyundai Kona Prices Near You
Pictured: 2022 Hyundai Kona N