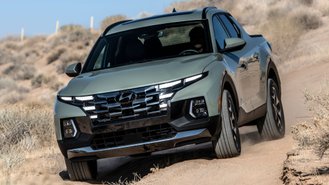 The highly anticipated 2022 Hyundai Santa Cruz will practically start a new segment of small pickup trucks and recently received official fuel economy ratings from the EPA. Unfortunately, while the Santa Cruz is being pitched as a class below modern compact trucks, its fuel economy figures don't exactly stand up well to being a tiny truck, as some larger options are more fuel efficient.
With the standard 2.5-liter four-cylinder engine and all-wheel drive (AWD), the Santa Cruz is rated to get up to 21 mpg in the city, 27 mpg on the highway, and 23 mpg combined. Front-wheel drive (FWD) brings the highway figure down to 26 mpg. It's strange to see the AWD model get better fuel economy figures than the FWD variant, especially on the highway, and we don't really have an answer on why this is the case. The turbocharged 2.5-liter four-cylinder engine, which makes 90 more horsepower than the base engine and is only available with AWD is rated to get 19 mpg city, 27 mpg hwy, and 22 mpg combined.
The Santa Cruz's figures aren't great, but they're not horrible either. As a pickup truck that's supposed to be a class below compact options, we were expecting the Santa Cruz to have far better fuel economy figures. That isn't the case. In fact, the Chevrolet Silverado, Ram 1500, GMC Sierra, Ford F-150, and Jeep Gladiator are all more efficient than the Santa Cruz when fitted with their respective diesel engines. The Silverado with the diesel engine is the most efficient truck on sale, carrying a rating of up to 27 mpg combined.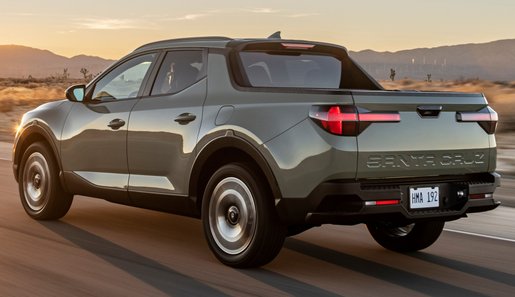 Compared to larger compact trucks, the Ford Ranger, Chevrolet Colorado, and GMC Canyon come with combined fuel economy ratings of 23 mpg, though the Chevy and GMC need to be equipped with a diesel engine to get that rating. Against other compact trucks, the Honda Ridgeline, Toyota Tacoma, and Nissan Frontier aren't as efficient.
Seeing full-size and compact pickup trucks get better fuel economy figures than the Santa Cruz, even if it's when they're equipped with diesel engines, is worse than we were expecting. The figures are especially bad, since the 2022 Tucson, which shares its platform and base engine with, is rated to get up to 29 mpg. The only explanation is the Santa Cruz's less aerodynamic body.
Since the Santa Cruz is expected to be an affordable, usable pickup truck for urbanites and consumers that don't need something as capable or powerful as larger trucks, the pickup's lackluster fuel economy figures could be deal-breaker. If consumers can get a larger truck with more power and more capability, pricing will become the main factor for shoppers to consider. With the Santa Cruz's figures, we're looking forward to seeing what kind of fuel economy the upcoming Ford Maverick will have to see how competitive the Hyundai will be.