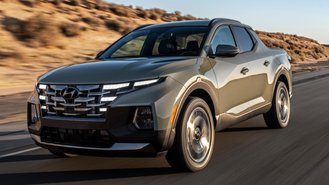 Hyundai has quietly raised prices on the Santa Cruz pickup. Based on the automaker's latest order guide, the truck's MSRP has increased by $210 since its arrival last year. While this may not be that big of a deal given the fact that an inventory shortage is keeping truck prices high, we think it's a change worth knowing about.
The 2022 Hyundai Santa Cruz now starts at $25,385 including destination, a $210 price increase compared to the vehicle's sticker price of $25,175 when it first debuted last summer. Although a fully-loaded Santa Cruz can still cost over $40,000, this does make one of the cheapest trucks in America slightly more expensive.
The latest price increase took effect on January 4th and isn't the only one we've seen in the small truck segment. Ford raised 2022 Maverick prices in December by up to $1,000. Even though the truck starts at just over $21,000, high demand caused Ford to stop taking Maverick orders and for buyers to wait till this summer.
In terms of deals, things have only gone downhill. Last fall, Hyundai offered 0% financing on the Santa Cruz plus no payments till 2022. Last month, Ford Mavericks were eligible for 0% APR. However, soon after news broke about Maverick orders being halted, Ford axed the incentive and even canceled Maverick lease deals.