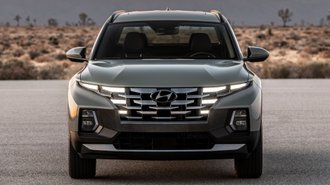 There's a small pickup truck revolution coming and the 2022 Hyundai Santa Cruz is one of the few options that's kicking the trend off. With the tiny pickup truck expected to go on sale later this month, Hyundai's finally ready to reveal how much the Santa Cruz will cost. Pricing starts at $25,175 including destination, which is what we expected when Hyundai unveiled the vehicle.
That starting price tag makes the Santa Cruz more affordable than the Tucson that it's based on. The compact SUV starts at $26,135. While we doubt many consumers will cross-shop the Santa Cruz against the subcompact Kona, the latter costs $22,135 or $3,040 less than the pickup truck. At the top of the range, Santa Cruz prices will reach nearly $41,000 with options.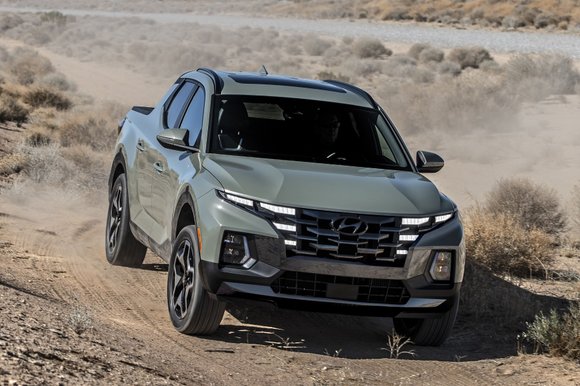 When the Santa Cruz goes on sale shortly, it will only go up against one competitor — the Ford Maverick. That tiny pickup truck is far more affordable than the Santa Cruz, carrying a starting price of $21,490. Despite coming with a hybrid powertrain, the Maverick is $3,685 cheaper than the Santa Cruz. While we were expecting the Santa Cruz to cost around $25,000, we weren't expecting it to be this expensive compared to the competition, but that's saying more about the way Ford priced its truck than anything else.
Oddly, the Santa Cruz is more closely aligned to larger midsize pickup trucks than it is to the Maverick. The Toyota Tacoma ($27,495), Nissan Frontier ($27,885), Chevrolet Colorado ($27,880), and Ford Ranger ($26,265) aren't a massive upgrade over the Santa Cruz. The Ranger is only $1,090 more than the Santa Cruz. The two trucks are different machines and are aimed at different consumers, but we're sure some will end up choosing larger midsize options that offer more capability and interior space.
We should point out that the Santa Cruz comes with more standard features than any of the pickup trucks listed above. So, there's a chance that consumers will be willing to pay more for something that's smaller and comes with more features. We'll have to wait and see what kind of sales figures the Santa Fe puts up before we can really say if Hyundai has priced it accordingly.