Consumers looking for pickup trucks have only had three segments to choose from for decades in the U.S. – compact, full-size, and heavy-duty. These go from very big, even bigger, and the absolute biggest. People that don't need to tow tens of thousands of pounds of cargo and prefer something comfortable over something capable have been out of luck. No automaker has come out with a small pickup that's comfortable, somewhat capable, easy to drive, and packed with useful features. Until now. After roughly seven years, Hyundai is finally ready to bring the 2022 Santa Cruz to market, ushering in a new type of pickup truck that it's calling a Sport Adventure Vehicle.
The main thing that will differentiate the Santa Cruz from other pickup trucks on the market is its size. Compared to the Nissan Frontier, the Santa Cruz is 9.8 inches shorter in length and 3.4 inches shorter in height. When it comes to bed length, the Santa Cruz's bed measures 52.1 inches in length, 7.3 inches shorter than the Frontier's. Compared to the Honda Ridgeline, the Santa Cruz's bed is 11.5 inches shorter in length. Its small size will put it in a segment of its own, sitting below compact options.
Size isn't the only thing that will separate the Santa Cruz from other pickups on the market. Underneath the small body, the Santa Cruz will utilize the same unibody platform as the Tucson compact SUV. This means the little truck won't be nearly as capable as more rugged options like the Toyota Tacoma or the Jeep Gladiator when it comes to towing, but more comfortable and easier to drive.
Speaking of towing capacity, the Santa Cruz is far more capable than one would imagine. The base 2.5-liter four-cylinder engine that's rated at more than 190 horsepower and 180 pound-feet of torque is rated at 3,500 pounds. The more powerful turbocharged version of the engine that will make more than 275 hp and 310 lb-ft of torque will be able to tow up to 5,000 pounds. That's behind the Chevrolet Colorado's maximum towing capacity of 7,700 pounds and the Ford Ranger's 7,500-pound rating, but matches the Honda Ridgeline's 5,000-pound figure.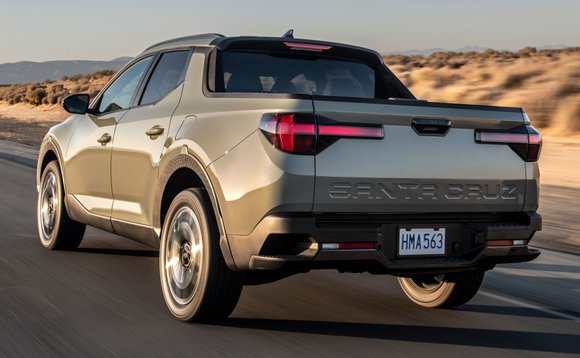 While off-roading is popular, the majority of consumers would rather have a comfortable ride the majority of the time for light off-roading capability. The Santa Cruz will be available with all-wheel drive, a locking center differential, hill-descent control, and multiple drive modes. While the Santa Cruz won't be able to keep up with a Gladiator off-road, it will still be able to tackle a dirt trail or reach a camping site.
The Sport Adventure Vehicle moniker may seem odd but it perfectly matches the Santa Cruz, because the vehicle is more akin to a compact SUV that happens to have a bed in the back. The Santa Cruz puts versatility and ease of use high up on its priority list with well-thought-out features. The bed has six tie-downs, lockable storage compartments in the floor, a 115-volt outlet, LED bed lighting, and an available locking tonneau cover. Additionally, the bed can hold up to 660 pounds of cargo.
On the inside, the Santa Cruz will be a tech-forward truck. While other automakers have decided not to offer the latest tech features on their models, Hyundai is flipping the script. Things like standard wireless Apple CarPlay and Android Auto and an 8-inch touchscreen will make the Santa Cruz a standout option. But Hyundai goes above and beyond by offering an available 10-inch infotainment screen with split-screen functionality, a 10-inch digital instrument cluster, a wireless charging pad, and its Digital Key system.

As a whole, it looks like Hyundai saw what Honda did with the Ridgeline and took it to another level. This angle helped Honda carve out a niche for itself in the heated segment and we're sure it will help Hyundai offer a competitive option to consumers, as long as pricing is more affordable than current compact options.
Hyundai hasn't said how much it will charge for the 2022 Santa Cruz yet, but we know the little truck will go on sale this summer. Other figures we're looking forward to seeing are official power numbers from the engines and fuel economy estimates.