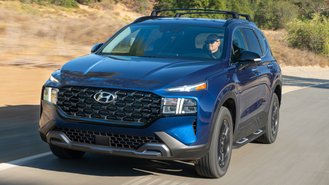 Editor's Note 8/02/21: We've added photos of the XRT based on a recent announcement from Hyundai.
The Hyundai Santa Fe will add an XRT trim for 2022, according to data based on a recent order guide. Although the South Korean automaker hasn't released full details or photos of the new midsize SUV, we do know what it'll cost and where it will sit in the upcoming Santa Fe lineup.
The Santa Fe XRT marks the first trim of its kind for Hyundai, and will have an MSRP of $33,485 including a destination charge of $1,185. That gets you a front-wheel-drive configuration, although all-wheel-drive can be added for an extra $1,700, bringing the total price to $35,185.
Although it may sound like a performance model or off-road-themed vehicle, it'll have the same 2.5-liter engine as the cheapest Sante Fe rated at 191 hp with 181 lb-ft of torque. Based on what we can see, it doesn't appear that Hyundai plans to offer a hybrid variant at this point in time.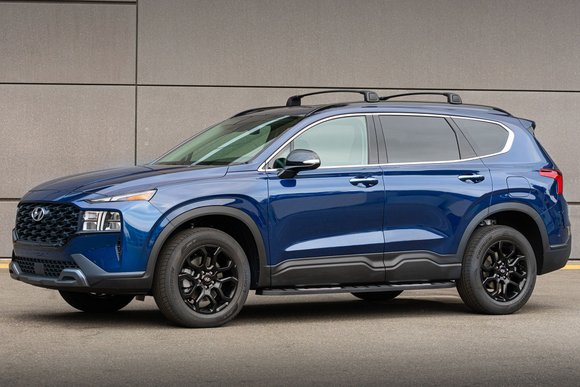 Unfortunately, we don't know if it'll get a blackout treatment like vehicles from sister company Kia's Nightfall Edition lineup. However, we do know that the Santa Fe XRT will come with exclusive 18-inch dark two-tone alloy wheels. Paint choices will be identical to the SEL, but the interior will be limited to black cloth.
At $33,485, the Santa Fe XRT will fill the nearly $10,000 massive gap in price between the current SEL and Limited trims. For 2022, it'll cost $3,300 more than an SEL ($30,185) and $6,660 less than the Limited ($40,145). That could make a lot of sense for buyers looking for a middle ground in terms of price.
Will the new XRT be worth the money? Should we expect to see more XRT models in the future? We'll have to wait a little longer for official specs from Hyundai. For now, it appears the XRT will offer no advantage in performance and may just be an appearance package to boost market share for SUVs under $35,000.
Build & Price The Current Hyundai Santa Fe