Hyundai is currently in the middle of introducing a variety of new, high-performance N-Line models for the U.S. market. At the same time Hyundai unveiled the redesigned 2022 Tucson, the automaker put out a teaser of the performance-oriented Tucson N-Line. The brand also confirmed that the sporty SUV would go on sale for the 2022 model year.
The teaser images give us a good look at what the upcoming Tucson N-Line will look like. Just like with other N-Line models, the Tucson N-Line has a more aggressive look than the regular model. The grille's design is slightly chunkier, the front bumper has a more angular look, and the air intake is a little larger. At the back, the compact SUV wears a different rear bumper and two prominent exhaust outlets. You'll also find some intricate wheels, black exterior trim pieces, and body cladding that matches the SUV's exterior paint. It's not a drastic change, but they certainly make the futuristic Tucson look even more out there.
Hyundai didn't provide any pictures of the Tucson N-Line's interior, but claims the SUV will have "differentiating interior details." Based on other N-Line models, we believe those include special upholstery, sportier seats, and a chunky leather steering wheel.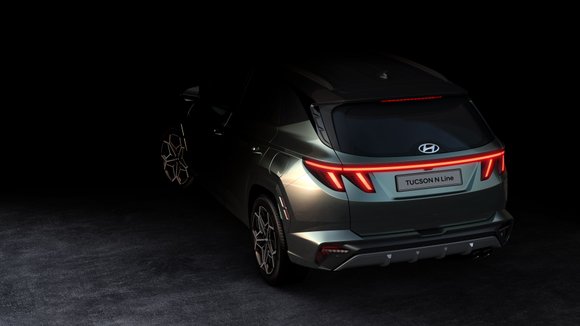 We don't know what kind of performance the compact SUV will have and Hyundai hasn't provided any hints. N-Line models are usually far more powerful than their regular models, so we're expecting the Tucson N-Line to pack the most powerful motor in the powertrain lineup. Rumors indicate that the Tucson N-Line could utilize one of the regular Tucson's hybrid engines, but with up to 290 horsepower. We're also expecting to see larger brakes, stiffer suspension, and performance tires based on what other N-Line models have.
Pricing is an absolute mystery, especially since we don't have any information on what the regular 2022 Tucson will cost. Seeing as how the 2021 Tucson's range-topping Ultimate trim started at around $32,000, we're expecting the Tucson N-Line to cost roughly $35,000.
At the moment, Hyundai only sells the Veloster N. The Sonata N-Line is the next trim coming up and should officially go on sale before the year ends. The Elantra N-Line will also go on sale before 2020 comes to an end. When the Tucson N-line goes on sale, that will increase Hyundai's lineup of performance vehicles to a total of four models.