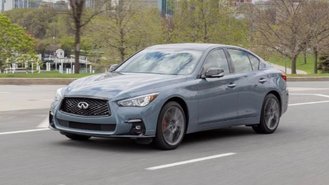 In case you forgot, the Infiniti Q50 is still on sale. Furthermore, Infiniti is actually making changes to the luxury sedan for 2022. Despite being eight years old, the Q50 arrives for the new model year with more standard features and a large jump in pricing. The 2022 Q50 starts at $43,125 with destination, which represents an increase of $5,400 from the previous model year. The main reason for the dramatic increase in pricing is because Infiniti discontinued the Pure trim.
Last year's Pure trim started at $37,725. Now, consumers looking to get into a Q50 are starting with the Luxe trim. When comparing Luxe trims against one another, the increase isn't as large. The 2021 Q50 Luxe trim cost $42,825, $300 less than the 2022 model.
That's not a large increase and the 2022 Q50 does come with a lot more standard features. Every Q50 comes standard with a Bose audio system, wireless Apple CarPlay, leather upholstery, a power-tilt-and-telescoping steering column, lumbar support for the driver's seat, and memory settings for the steering wheel, driver's seat, and exterior mirrors. So, for $300, you're getting your money's worth.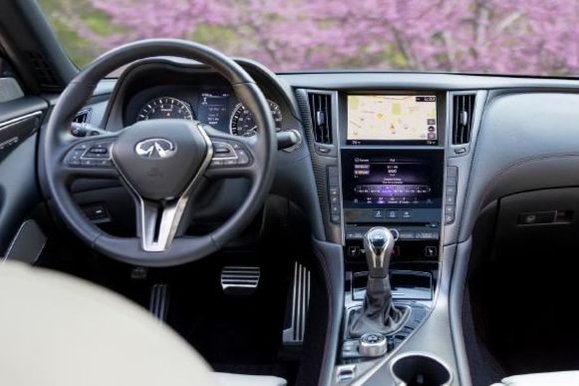 The decision to discontinue last year's Pure trim results in a Q50 lineup that includes three trims: Luxe, Sensory, and Red Sport 400. Pricing for the Red Sport 400 starts at $56,975. Each Q50 comes with a twin-turbo 3.6-liter V6 that's paired with a seven-speed automatic transmission. Luxe and Sensory trims come with a 300-horsepower version of the engine, while the Red Sport 400 is rated at 400 hp. Rear-wheel drive is standard, with all-wheel drive being an extra $2,000.
Because of its age, the Q50's main calling card has always been its value. With the Pure trim discontinued and the large increase in pricing, it's no longer the great deal that it once was. The Genesis G70 ($38,570), Mercedes-Benz C-Class ($42,650), Audi A4 ($40,145), Lexus IS ($40,125), and Volvo S60 ($40,295) are all more affordable than the Q50. The BMW 3-Series ($43,195) is one of the few options that costs more.
While the Q50 does come with a long list of standard features, it needs a full redesign. With the value-oriented trim gone, the 2022 Q50 is hard to recommend.
Pictured: 2022 Infiniti Q50