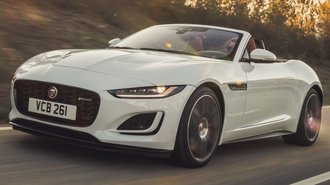 Jaguar is making some major changes to the 2022 F-Type, which soldiers on as the only sports car in its lineup. For the upcoming model year, the F-Type is going V8 only, as the four-cylinder and six-cylinder engines have been dropped. In a world where V8s are disappearing, Jaguar's found a way to keep its eight-cylinder alive. While we're happy to report that the F-Type will continue to be available with a V8 engine, the change in available powertrains means that the sports car gets an $8,300 increase in pricing.
For the 2022 model year, the F-Type P450 will be offered in both coupe and convertible body styles. Both will come with a supercharged 5.0-liter V8 engine making 444 horsepower and 428 pound-feet of torque. The engine will continue to be paired with an eight-speed automatic transmission that helps route power to either the rear wheels or all four via an all-wheel-drive system. With the right configuration, the F-Type can get to 60 mph in 4.4 seconds and top out at 177 mph.
With Jaguar's decision to discontinue the four-cylinder and six-cylinder engines, the P450 becomes the entry-level F-Type. Pricing for the model starts at $71,050 (with destination), which is a hefty $8,300 increase from last year's entry-level trim. The P450 R-Dynamic AWD, which adds all-wheel drive, 20-inch wheels, black exterior elements, and some special badges, costs $81,050. The F-Type R continues to be the range-topping option with a 575-horsepower supercharged V8 engine and is priced at $104,350.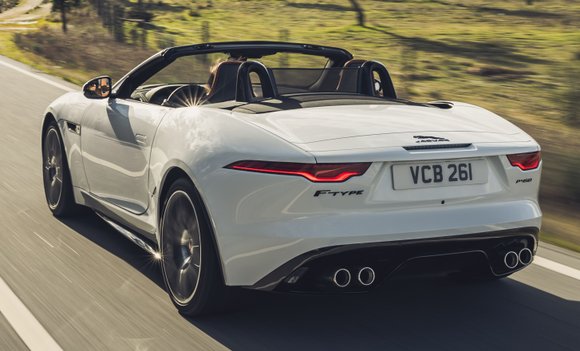 The change is surprising. Last year, the F-Type was available with a standard turbocharged 2.0-liter four-cylinder engine making 296 horsepower. That was the entry-level engine. The next step up was a supercharged 3.0-liter V6 that produced 380 horsepower. The P300 model with the four-cylinder started at $62,750, while the P380 with the V6 cost $82,950. If you wanted a 2021 F-Type with a V8 engine, you were stuck with the R trim that cost $104,350. So, while the 2022 F-Type sees a dramatic increase in pricing, getting an F-Type with a V8 engine is more affordable than before.
Not much changes for the F-Type beyond its available engines. The P450 comes with a 10-inch touchscreen, a 12.3-inch digital instrument cluster, Apple CarPlay, Android Auto, an auto-dimming rearview mirror, a Meridian audio system, and sport seats with leather and suede cloth upholstery. Standard safety features include lane keeping assist, traffic sign recognition, adaptive cruise control, automatic emergency braking, a driver condition monitor, and parking sensors.
Consumers that wanted a V8-powered F-Type will find the 2022 model to be well worth the increase in pricing. But for the majority of consumers that were fine with more manageable levels of performance, last year's model will be far more appealing.