Before the end of March, reports indicated that the Wagoneer and Grand Wagoneer would be getting a new twin-turbocharged 3.0-liter inline-six engine codenamed the Hurricane. Before the large SUVs arrive at dealerships with the new six-cylinder engine, Jeep has plans to sell a limited run of 2022 Grand Wagoneers that will be sold with a high-output version of the engine that's rated at 510 horsepower and 500 pound-feet of torque. The EPA has released its official fuel economy figures for the high-output Hurricane engine and the six-cylinder engine is more efficient than the 6.4-liter V8 engine.
A rear-wheel-drive Grand Wagoneer with the turbocharged 3.0-liter six-cylinder engine is rated at 15 mpg in the city, 21 mpg on the highway, and 17 mpg combined. Four-wheel-drive models carry the same 17 mpg combined rating, but fuel economy drops by one in the city and on the highway. These figures make the six-cylinder engine the most efficient engine in the lineup. With the 6.4-liter V8 engine, the Grand Wagoneer is rated to get up to 15 mpg combined with RWD or 4WD.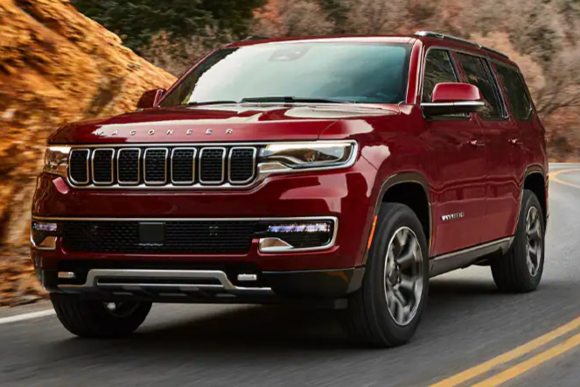 It's important to remember that the 17 mpg combined figure is for the high-output version of the six-cylinder engine. We expect the standard version that's rated at 420 hp to be more efficient, especially with the smaller Wagoneer. We'll be waiting some time to get those figures, as that version of the engine won't be available until the next model year.
Compared to the 6.4-liter V8 engine in the Grand Wagoneer, the turbocharged 3.0-liter six-cylinder is a $2,000 upgrade. The six-cylinder engine brings more power, as well as better fuel economy – at least in its high-output configuration – as the 6.4-liter V8 is rated at 471 hp and 455 lb-ft of torque.
While large SUVs like the Wagoneer and Grand Wagoneer aren't exactly efficient options, it's nice to see Jeep come out with a motor that gets better fuel economy, while making more power. We're not sure how well the engine will sell, since it's a $2,000 option and most consumers prefer their large SUVs with eight-cylinder engines.
Pictured: 2022 Jeep Grand Wagoneer (Top), 2022 Jeep Wagoneer (Middle)