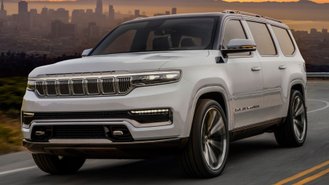 As an enormous SUV with a 6.4-liter V8 engine, no one was expecting the 2022 Jeep Grand Wagoneer to be a fuel-efficient vehicle. So, when the EPA released its official fuel economy ratings for the large luxury SUV, we weren't that surprised to see a combined rating of just 15 mpg. Here's a quick look at how that compares with some of the model's chief competitors, including full-size models in the luxury SUV segment.

Full fuel economy figures for the Grand Wagoneer break down to 13 mpg in the city and 19 mpg on the highway. Those figures are for rear-wheel-drive models. Going with four-wheel drive lowers the highway figure to 18 mpg. Consumers can expect to pay a lot at the pumps, as the SUV requires premium fuel. While large luxury SUVs aren't the most efficient vehicles on the market, the Grand Wagoneer's fuel economy figures are well behind the rest of the class.
The Cadillac Escalade can get up to 16 mpg combined, Ford Expedition is rated at 19 mpg combined, and the Lincoln Navigator carries a combined fuel economy rating of 18 mpg. On the import brand size, the Mercedes-Benz GLS gets 18 mpg combined, the Infiniti QX80 gets 16 mpg combined, and the BMW X7 is rated at 17 mpg combined. The Lexus LX (14 mpg combined) is one of the few SUVs that have worse fuel economy figures than the Grand Wagoneer.
The 2022 Grand Wagoneer will become Jeep's largest and most expensive SUV. It's an upscale version of the Wagoneer, which is similar in size, but comes with a 5.7-liter V8 engine. Fuel economy figures for the Wagoneer haven't been released by the EPA yet. With cutting-edge tech features, high-end luxury features, and a 471-horsepower V8 engine, the Grand Wagoneer looks to take Mercedes, BMW, Land Rover, and Cadillac on with a bonafide luxury option.

Pricing for the Grand Wagoneer starts at $88,995 (with destination) and goes up to $105,995. The 2022 SUV is expected to go on sale later this summer, while the Wagoneer will follow after. That makes for a flurry of new model releases, following the arrival of the Grand Cherokee L, a new 3-row version of the next-gen Grand Cherokee.