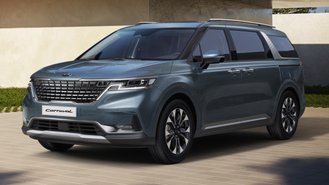 While we knew Kia was set on changing the name of its minivan from Sedona to Carnival, the EPA's official fuel economy ratings for the Carnival still came as a surprise. Not only does the news give us information on what kind of fuel economy Kia's minivan will get, but it also confirms that the people carrier will be called the Carnival when it goes on sale for the 2022 model year.
The 2022 Carnival will come with a 3.5-liter V6 engine and an eight-speed automatic transmission. The minivan will be able to get up to 19 mpg in the city, 26 mpg on the highway, and 22 mpg combined. While we don't know what kind of power the V6 will make, the Carnival's fuel economy figures are slightly better than the outgoing Sedona's. The 2021 Sedona was rated at up to 18 mpg city, 24 mpg hwy, and 21 mpg combined.
Those figures are impressive, as the Carnival comes with a larger engine than the Sedona. Power for the Sedona came from a 3.3-liter V6 engine that made 276 horsepower. Based on the EPA's listing, we know that the Carnival will come with a 3.5-liter V6, which we expect will be rated at 294 hp. Increasing the engine's size and horsepower, while bringing more efficiency is noteworthy.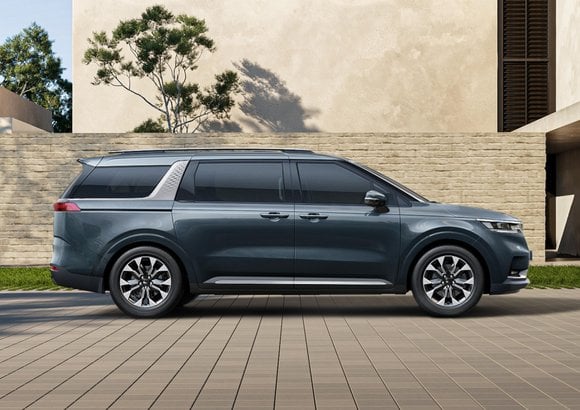 Compared to the few minivans on the market, the new Carnival stacks up to the competition well. The Chrysler Voyager, Chrysler Pacifica, and Honda Odyssey are all rated to get up to 22 mpg combined. The hybrid-only Toyota Sienna is one of the more efficient minivans in the class with a combined rating of 36 mpg. The available plug-in hybrid Chrysler Pacifica Hybrid can get up to 30 mpg combined when running on gasoline.
Based on the EPA's fuel economy ratings and rumors, we don't think the Carnival will be getting a hybrid option. Currently, Kia only offers a few electrified vehicles with the hybrid Niro, Niro Plug-In Hybrid, Niro EV, and Sorento Hybrid. With SUVs being far more popular than minivans, it doesn't make sense for Kia to invest in an electric powertrain for the Carnival.