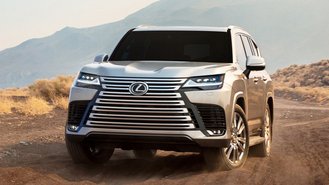 Toyota may not have any plans to sell the new Land Cruiser in the U.S., but Lexus is bringing the 2022 LX 600, which is an upscale version of the Land Cruiser, to our part of the world. Lexus recently debuted the 2022 LX 600 and it's a massive upgrade over the model that it replaced. While the LX 600 sticks to the same overall recipe as the previous model, it moves to a new platform, sheds 441 pounds, and drops the V8 engine. That last bit may confuse some shoppers.
Large luxury SUVs mostly come with V8 engines. The BMW X7, Mercedes-Benz GLS, Jeep Grand Wagoneer, Cadillac Escalade, and Infiniti QX80 are all available with powerful V8 engines. Last year's LX 570 was offered with a 5.7-liter V8 engine, but that motor has been replaced with a twin-turbocharged 3.4-liter V6 that's rated at 409 horsepower and 479 pound-feet of torque. While the new turbocharged engine is down two cylinders compared to last year's motor, it makes 26 more horsepower and 76 more pound-feet of torque. Last year's eight-speed automatic transmission has been replaced with a new 10-speed unit, too.
The move is a surprising one, as the automaker continues to stick with naturally-aspirated V8 engines for the majority of its high-end vehicles. The decision to drop the V8 matches what Toyota is doing with the global Land Cruiser, which comes with the same twin-turbo V6 engine.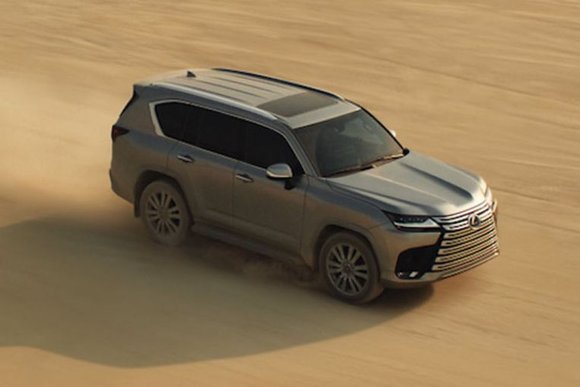 Compared to the competition, the 2022 LX 600 is down on power compared to other options that come with standard V8 engines, but offers more grunt than other options that come with turbocharged six-cylinder engines. The Infiniti QX80 comes with a 5.6-liter V8 that makes 400 hp, Jeep Grand Wagoneer is powered by a 6.4-liter V8 that generates 471 hp, Cadillac Escalade features a 6.2-liter V8 that produces 420 hp, Mercedes-Benz GLS features a turbocharged 3.0-liter six-cylinder engine that makes 362 hp, and BMW X7 has a turbocharged 3.0-liter six-cylinder engine that's rated at 335 hp.
Beyond the new engine, the LX 600 continues to offer some serious off-roading capability. The new SUV has all of the same approach and departure angles as last year's model and comes with various off-roading goodies. Crawl Control, Multi-Terrain Monitor, Multi-Terrain Select, and three selectable driving height modes are included with the SUV. Lexus has made a few changes to the LX 600, including more rebound travel for the front and rear shocks and a reprogrammed Multi-Terrain Select system that can be used in four-high and four-low.
While some consumers may expect a large luxury SUV to come with a V8 engine, we don't think a lot of shoppers will mind that the LX 600 comes with a twin-turbocharged V6 engine. It brings a lot more power than the outgoing V8 and we expect it to be more fuel-efficient, too.
See Our Preview of the 2022 Lexus LX 600
Pictured: 2022 Lexus LX 600