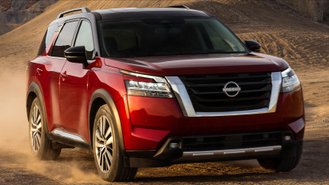 To make cars more efficient, the majority of automakers have switched to using continuously variable automatic transmissions (CVT). While CVTs help in fuel economy, they're unrefined, loud, and worse than a regular transmission with real gears. For the all-new 2022 Nissan Pathfinder, the midsize SUV is going against the grain by trading in its CVT for a nine-speed automatic. Surprisingly, fuel economy hasn't been affected by the change.
The 2022 Pathfinder may be all-new, but the 3.5-liter V6 engine stays the same under the hood. It still makes 284 horsepower and 259 pound-feet of torque. The update comes in the form of the new nine-speed automatic. The EPA has put out official fuel economy figures for the Pathfinder and they're nearly identical to the 2020 model.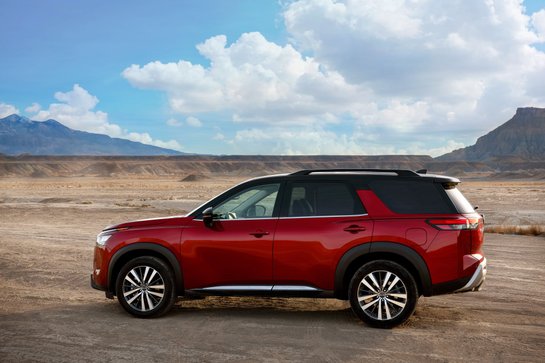 The 2020 Pathfinder with front-wheel drive was rated at up to 20 mpg in the city, 27 mpg on the highway, and 23 mpg combined. For the 2022 model year, four-wheel-drive models are the most efficient of the bunch, which is strange. Either way, the 2022 Pathfinder gets 21 mpg city, 27 mpg hwy, and 23 mpg combined. The annual fuel cost is still estimated to be $1,950, too. At the other end of the fuel economy scale, the 2022 Pathfinder Platinum with 4WD is rated to get up to 22 mpg combined. The same model from 2020 was rated to get up to 21 mpg combined.
The new transmission helps the Pathfinder match other competitors in the midsize class. The Kia Telluride (23 mpg), Toyota Highlander (24 mpg), Honda Pilot (23 mpg), Mazda CX-9 (24 mpg), and Ford Explorer (24 mpg) all have similar fuel economy ratings.
We really need to drive the new Pathfinder to see if the automatic transmission is a better gearbox than the old CVT, but based on our time with the outgoing SUV, we think it's going to be a large update. In our review of the 2020 Pathfinder, we found the powertrain to be unrefined. The CVT was coarse and loud when being pushed hard, while being slow to catch up to throttle inputs. In our view, the new nine-speed auto makes the 2022 Pathfinder a more compelling choice than before.