Despite a full redesign one year ago that added an all-new look and plush interior, Nissan has already updated the 2022 Rogue's engine, making the SUV more powerful and more fuel-efficient. However, a closer look finds that the Rogue lineup will see a price increase of up to $750 as a result. Here's a brief look at why the latest version of the Rogue could be worth waiting for if you're looking to get the most for your money.
Across the board, front-wheel-drive versions will see a $650 price increase while their all-wheel-drive counterparts will see a $750 increase. This equates to roughly a 2% increase in MSRP, which falls in line with expected year-over-year increases we typically see in pricing from most car brands. The 2022 Rogue S is priced from $27,875 including destination, and all-wheel drive adds $1,500 for an MSRP of $29,375. The current Rogue S has a sticker price that starts at $27,225 including destination.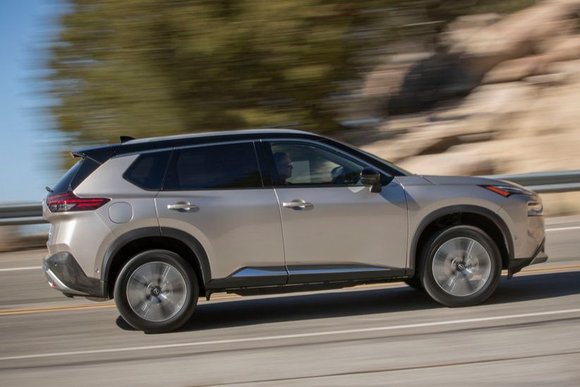 For reference, Nissan has updated the 2022 Rogue's powertrain by replacing the current 2.5-liter four-cylinder engine with a 1.5-liter turbocharged three-cylinder model. The new engine, paired with a new Xtronic transmission, delivers 201 horsepower — according to Nissan, an 11% increase in power — and 33 mpg combined, which is 3 mpg more than the 2021 model. As before, Nissan says the Rogue offers the most standard safety features in its class.
For comparison, the current Toyota RAV4's 2.5-liter four-cylinder engine generates 203 horsepower, 30 mpg combined and costs $27,225. Alternatively, the 2022 Honda CR-V's turbocharged 1.5-liter four-cylinder unit puts out 190 horsepower, 30 mpg combined and costs $26,975. The 2022 Chevy Equinox comes with a 1.5-liter turbo four-cylinder engine with an output of 170 horsepower, 28 mpg combined, and costs $26,995.
Perhaps the price increase isn't a deal-breaker for most, but it is worth noting that Nissan recently canceled rebates on the outgoing Rogue. On the other hand, with the lack of incentives available on the current model year Rogue, and the better performance and fuel economy with the new powertrain, it may be worth waiting for the 2022 model which is expected to start arriving in showrooms next month.
See Our Full Preview of the 2022 Nissan Rogue
Pictured: 2022 Nissan Rogue