The Porsche Macan has quickly become the automaker's best-selling vehicle. While the German automaker is hard at work on an electric Macan that's supposed to come out in 2023, Porsche has introduced an updated compact crossover for the 2022 model year. Headlines for the new model year include subtle styling tweaks, more power, and a smaller lineup.
Let's start with the pricing. Depending on trim level, the 2022 Macan is up to $7,800 more expensive than last year. The compact SUV starts at $56,250 (destination included), which is $2,800 more than the MSRP of the current model. The 2022 Macan S is priced at $66,750 ($5,200 more than before) and the GTS costs $81,250 ($7,800 more). From Porsche's press release, it doesn't look like the automaker will offer the Macan in a high-performance Turbo trim for the 2022 model year.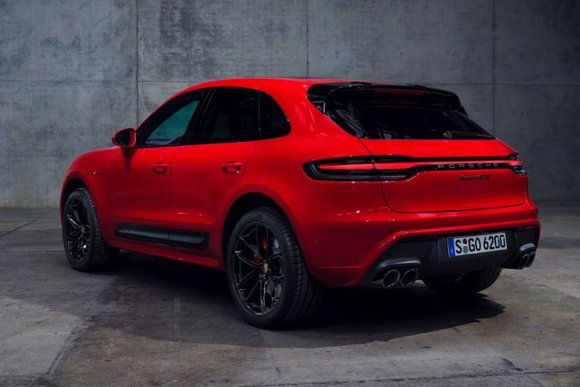 A $7,800 price increase is a massive amount, but the $2,800 increase for the base Macan isn't an extreme price hike. For that amount, the 2022 Macan now comes with a more powerful base engine. The turbocharged 2.0-liter four-cylinder is rated at 261 horsepower and 295 pound-feet of torque, which are increases of 13 hp and 22 lb-ft.
On the inside, the SUV still comes with a 10.9-inch touchscreen, but Apple CarPlay and navigation are standard. As far as design changes go, the 2022 Macan receives more air intakes, LED headlights, a larger rear diffuser, updated side mirrors, and new wheels. The interior center console has been updated, more touch-sensitive controls have been added, and there's more interior storage space.
Further up the lineup, the Macan S gets a more powerful engine, featuring the motor from last year's GTS. Power for the Macan S now comes from a twin-turbo 2.9-liter V6 that's rated at 375 hp. The new GTS, which replaces the Turbo model as the top dog, comes with the Turbo's old engine. The 2022 Macan GTS features a twin-turbo V6 that's rated at 434 hp.
Porsche is charging a lot of money for what equates to a better-looking and more powerful Macan, but there's a reason why the vehicle is the best-selling model in the lineup — nothing in the brand's lineup offers the same mix of performance and versatility. We don't think the price increase will affect the Macan's popularity, as it's one of the sportier compact SUVs on sale. So, consumers go into purchasing the vehicle expecting to pay more.
The 2022 Porsche Macan will go on sale early next year, while the sporty S and GTS trims will arrive later in the spring.