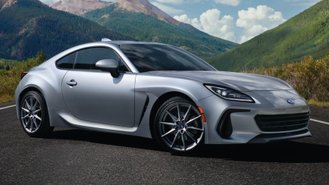 Affordable sports cars have become harder to find, as automakers have moved further upmarket with performance vehicles. The Subaru BRZ and Toyota GR86 return for a new model year with major updates that make both vehicles far more enjoyable to drive. Because of the changes and the lack of any real competitors, we expected the two sports cars to be popular. We weren't sure of exactly how popular the vehicles would be, but we have an idea that incredibly is the answer, because Subaru recently stopped taking orders for the 2022 BRZ.
According to user Tr4ck_day on the FT86 Club forum, Subaru stopped accepting orders for the 2022 BRZ on January 13. The user shared a screenshot of the announcement from Subarunet, a communications tool that dealerships use. The message from Subaru of America simply reads, "Sold orders for 22MY BRZ are closing Thursday January 13, 2022 at 5:00 PM EST."
Motor1 reached out to a Subaru spokesperson who confirmed the news. Subaru closed the books because "the sold order allotment was met." That sounds straightforward. Subaru had a specific number of BRZ models it let consumers order and once those orders were filled, it closed the books. The automaker didn't share any information on how many BRZs were ordered.
As the Subaru spokesperson pointed out, while the automaker closed its order books for the 2022 BRZ, consumers can still head to a dealer and purchase a new model. Unfortunately, with the ongoing chip shortage, consumers looking to purchase one of the sports cars at a dealer could find themselves looking at a markup. Additionally, consumers could be waiting a little while for BRZs to arrive at dealerships and there's a small chance of finding a model with the exact specification that you're looking for.
Because of the chip shortage, ordering a vehicle directly from an automaker has become more popular to ensure availability. It's always a way for consumers to attempt to stay away from markups.
With the BRZ and GR86 being built at the same factory, we're interested to hear if Toyota has also stopped taking orders for its version of the sports car. Pricing for the 2022 BRZ starts at $28,955 with destination for the Premium trim and $31,455 for the Limited.
Build & Price Your 2022 Subaru BRZ
Pictured: 2022 Subaru BRZ