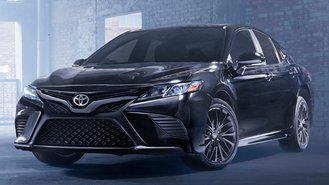 If you're looking for a car with good fuel economy that's a little less bland, Toyota may have an answer. For 2022, the Camry Hybrid will add a new Nightshade Special Edition model. For the money, it could prove to be an appealing upgrade for midsize car buyers.
Based on data derived from Toyota's latest order guide, 2022 Camry Hybrid Nightshade Edition pricing will start at $30,640 with destination. That's just $700 more than the SE trim ($29,940) and $2,080 more than the non-hybrid 2022 Camry Nightshade Edition ($28,560).
Toyota hasn't released full details, but we do know that the Nightshade features 18" wheels and a more limited color palette than the SE consisting of three paint choices: Super White, Celestial Silver Metallic, and Midnight Black Metallic. There's one interior color: black.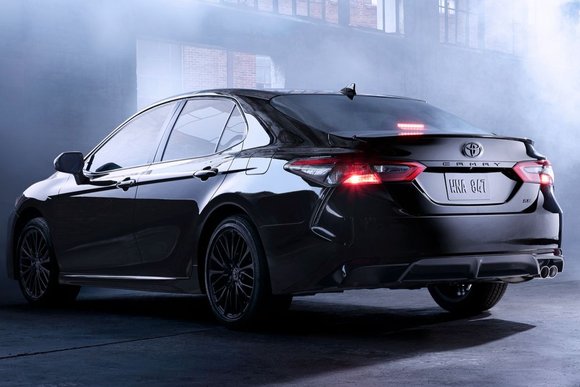 Fuel economy hasn't been posted yet on the EPA's website but is expected to be in line with the current car. The 2021 Camry Hybrid gets 46 mpg overall on most trims but 52 mpg with the entry-level LE. The 4-cylinder Camry gets from 28 to 32 mpg depending on trim.
Toyota already offers around 10 Nightshade Edition models: the Corolla Sedan, Corolla Hatchback, Prius, Camry, Avalon, C-HR, 4Runner, Sequoia, Tacoma, and Tundra. The most recent addition was the 2022 Prius Nightshade Edition announced about a month ago.
The blackout look isn't a new trend and doesn't appear to be going away anytime soon. For example, Kia offers a Nightfall Edition, while Nissan offers a Midnight Edition. Not long ago, we also learned that the Hyundai Sonata N-Line Night Edition will start at $35,755.
Top Toyota Lease Deals & Rebates
Pictured: 2021 Camry Nightshade Edition