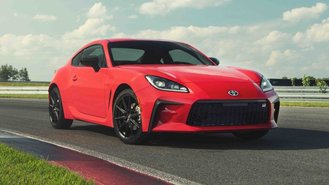 Despite the dwindling number of sports cars on the market, the 2022 Toyota GR86 returns for a second generation, as does the Subaru BRZ. When these vehicles were introduced in 2013 (back then, the GR86 was known as the Scion FR-S, which later became the Toyota 86), they emphasized affordability. Toyota has finally released information on how much the GR86 will cost, and the model will continue to appeal to shoppers on a budget.
Pricing for the 2022 GR86 starts at $28,725 (prices include destination). That represents a modest increase of $670 from the 2020 model year, but $30 of that comes from the higher destination fee. That price tag is for the base trim with a six-speed manual transmission. The range-topping Premium trim with six-speed automatic costs $32,825.
Compared to the 2022 BRZ, the GR86 is slightly more affordable. Subaru's option starts at $28,955, while the high-end Limited trim with the automatic transmission costs $33,255. Seeing the BRZ cost $230 more than the GR86 isn't surprising. Even with the 2020 models of the sports cars, Subaru's option has consistently been a little more expensive than Toyota's.
With a price tag that's below $30,000, the 2022 GR86 is a bargain. It's slightly more expensive than the Mazda MX-5 Miata and more affordable than the new Volkswagen GTI. We're still waiting to see what Honda has in store for the upcoming Si model. Compared to the outgoing 86, the 2022 model year brings a new 2.4-liter flat-four that makes 228 horsepower and 184 pound-feet of torque. Additional changes include a new eight-inch touchscreen, updated seats, a seven-inch digital instrument cluster, revised suspension, a sharper design, and an upgraded frame. Consumers are getting a lot of bang for their buck for an extra $670.
The fully redesigned GR86 and BRZ are even better sports cars than the models they replace. They're more powerful, sharper to drive, just as comfortable, and filled with more tech. Following up a great act with something even better is incredibly difficult. Somehow, Toyota and Subaru have managed to do just that. Even better, they're not charging consumers a large amount of money for all of the upgrades. Shoppers will be able to purchase a 2022 Toyota GR86 at a dealership this December.
Pictured: 2022 Toyota GR86