Toyota's woodsiest Sienna will cost nearly $50,000 with options when it arrives this fall. Based on data derived from the brand's latest order guide, the 2022 Sienna Woodland Edition pricing will start at $46,565 after a $1,215 destination fee. That will make the new minivan one of the most expensive Siennas you can buy.
As we learned this past April, the Sienna Woodland Special Edition is a variant of the XLE trim with all-wheel drive. Noteworthy enhancements include 0.6 inches of additional ground clearance, a hitch capable of towing 3,500 lbs, a 1500W-capable power outlet, exclusive Cement paint choice, dark chrome accents, and more.
At $46,565, the Woodland Edition will cost $3,500 more than a standard Sienna XLE with all-wheel drive (MSRP $43,065). That could be quite a step up in price for potential buyers, although we suspect there will be takers looking for an alternative with a unique look that signals a decidedly more outdoorsy type of lifestyle.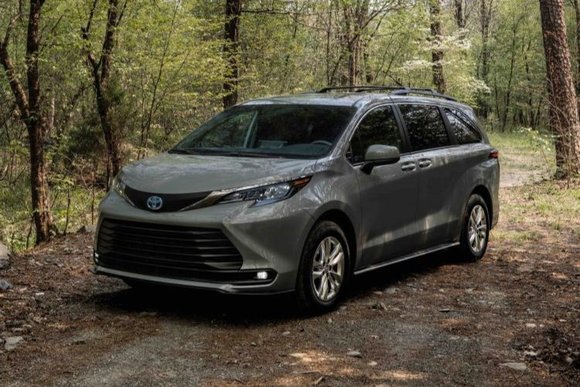 With an optional rear-seat entertainment system and a slew of optional equipment, our analysis finds that it'll be possible to spend over $48,000 on a fully-loaded Woodland Edition. Having said that, the most expensive Sienna will continue to be the Platinum trim at an MSRP of $51,975 before adding any optional gear.
Until recently, Toyota's special editions focused on adding blacked-out Nightshade Editions. Although we don't yet know if the brand plans to expand the Woodland Edition concept to other models, it's certainly possible. After all, Subaru is already expanding its range of Wilderness models to include the 2022 Outback this fall.
Unlike a Subaru, the Sienna Woodland Edition will offer buyers an efficient hybrid engine with an EPA-estimated 35 mpg in overall driving. That's actually the case with all Siennas after a change that resulted in all 2021 Siennas turning into hybrid-only vehicles. For eco-conscious buyers, that could be the icing on the cake.
Interestingly, the latest Toyota incentives show that you can already get a rebate on the 2022 Sienna. Here in Southern California, we're seeing a $500 cash incentive. The catch is that you can only get the deal when financing your vehicle at a non-promotional rate. If that isn't a deal-breaker, this could be a pretty good deal.