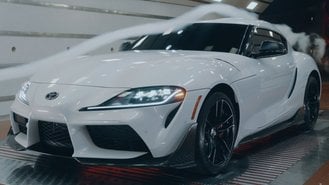 Another year, and there's another limited-edition Toyota Supra. This time around, it's called the A91 Carbon Fiber Edition. Supra fans will recall that Toyota introduced the A91 Edition for the 2021 model, but this one, as its name implies, brings some gorgeous carbon fiber accents. The A91-CF Edition will also be incredibly limited, as Toyota only plans to build 600 units of the vehicle.
Compared to last year's A91 Edition, the 2022 A91-CF Edition adds a prominent body kit that's made out of carbon fiber, but you probably could've guessed that much. The body kit includes a front splitter, side rockers, and a duckbill spoiler. Beyond giving the Supra a slightly more aggressive design, Toyota claims the body kit improves the sports car's downforce and stability, though the brand didn't provide any specific figures. Other exterior features on the A91 Carbon Fiber Edition include unique 19-inch black wheels and red brake calipers. The special edition model will be available in Phantom matte-gray, Absolute Zero White, and Nitro Yellow.
Things on the inside are more subdued. The only changes for the A91 Carbon Fiber Edition include a red and black cabin with Alcantara and leather-trimmed upholstery. The 14-way power-adjustable sport seats feature red stitching, while carbon fiber trim has been added on the inside. The special edition model also comes with a leather-wrapped three-spoke steering wheel and sport pedals.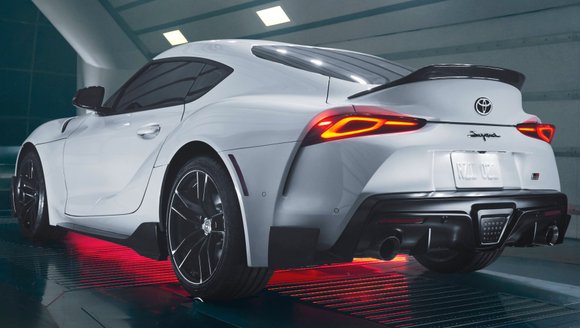 Without any changes to performance, the A91-CF Edition acts as an appearance package. The limited-edition Supra comes with a turbocharged 3.0-liter six-cylinder engine that makes 382 horsepower, which is unchanged from last year. It doesn't look like Toyota will offer the special edition model with the four-cylinder engine.
Pricing for the 2022 A91 Carbon Fiber Edition hasn't been announced yet. Toyota will confirm pricing in the next few months, as the special edition is expected to arrive at dealers later this fall.
With the Supra now entering its third model year on sale, Toyota's doing a lot to keep the model fresh in everyone's minds. Sports cars tend to have short lifespans and do incredibly well in their first few years on sale before tapering off. While the new A91 Carbon Fiber Edition may not appeal to every enthusiast shopping for a sports car, we're sure Toyota will find 600 consumers to purchase a model.
Since its return, the Supra has done pretty well. The Supra has outsold the BMW Z4 and Audi TT since it went on sale in 2019, but is well behind the Chevrolet Corvette in sales.