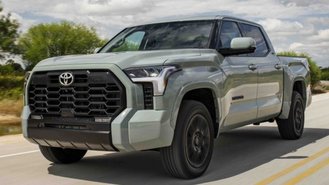 Toyota's largest pickup truck is getting a significant price increase for 2022. Based on an announcement earlier today, the redesigned Tundra will start at $37,645 including a destination fee of $1,695. That's $1,825 more expensive than the current truck's starting price of $35,820 and over $6,300 more than the Ford F-150.
While the 2022 Tundra does offer a full range of improvements compared to the current truck, those changes will come at a steep cost. At $37,645, the all-new Tundra SR5 will be $6,310 more expensive than the 2022 Ford F-150. As we reported last month, the latest version of the iconic Ford nameplate will start at $31,335.
For the money, that could make the Tundra somewhat of a tough sell. Having said that, the redesigned truck will be sold in Double and Crew Cab configurations, whereas competitors still offer lower-priced Regular Cabs. That could be important to keep in mind when comparing Tundra truck prices with those of competitors.
But will the new Tundra really be worth the money? That remains to be seen. With a wide range of configurations like a first-ever i-FORCE MAX hybrid and upcoming TRD Pro, it's possible that the next-gen truck could be a compelling choice when shoppers are opting for bigger and more costly pickups that can do everything.
Looking for a deal on the 2021 Tundra? You may be disappointed since the truck remains extremely hard to find due to a supply shortage. The best deal right now is 2.99% APR for 72 months. Given that models like the RAM 1500 recently offered 0% for 84 months, those looking to get the best deal may not find it from Toyota.