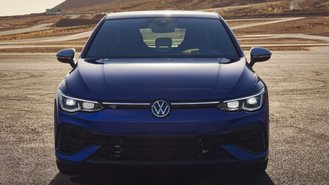 Sure, for most people, the 2022 Volkswagen Golf GTI offers plenty of performance. But for drivers seeking more oomph and a high-tech all-wheel-drive system, there's the 2022 Golf R that will go on sale before the end of the year. When the new Golf R arrives at dealerships, it will carry a hefty starting price tag of $44,640 including destination.
The Golf R has always been one of the pricier hot hatchbacks on the market, but the 2022 model is $3,350 more than the outgoing model. If you want the seven-speed dual-clutch automatic transmission, you're looking at spending $45,440, or $3,050 more than before. As far as all-new vehicles go, these are incredibly high increases in pricing.
Compared to the previous-gen Golf R, the 2022 model comes with a more powerful engine and a more advanced AWD system. The turbocharged 2.0-liter four-cylinder engine produces 315 horsepower in the 2022 Golf R, which is an increase of 27 hp. The 2022 Golf R now comes with a torque-vectoring AWD system that's capable of sending 100% of the engine's torque to a single wheel, which will allow it to offer sharper handling than before.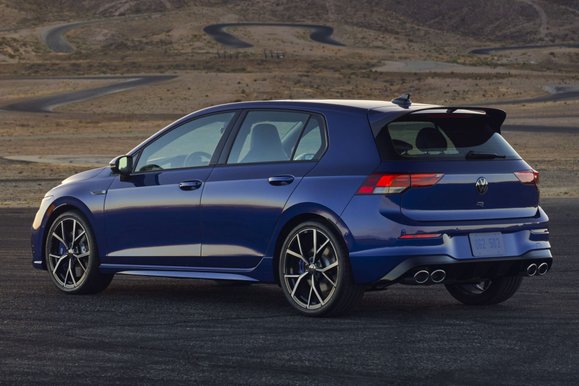 The changes go beyond performance, though. Like before, VW will offer the Golf R in one, fully-loaded trim. Standard features include three-zone automatic climate control, Nappa leather upholstery, heated front and rear seats, a sunroof, keyless entry, ventilated front seats, an auto-dimming rearview mirror, four USB-C ports, a Harman Kardon audio system, and a wireless charging device. On the tech front, the Golf R comes with a 10-inch infotainment system, a 10.25-inch instrument cluster, and VW's IQ.Drive suite of advanced safety features.
The 2022 Golf R won't face a lot of competition when the hatchback goes on sale. Its main rival will be the Honda Civic Type R, which costs $38,910 and comes with a 306-horsepower engine, front-wheel drive, and a six-speed manual transmission. Compared to the Golf R, the Type R doesn't have nearly the same tech or convenience features.
The Type R is a more focused hot hatchback that's all about lap times, while the Golf R is a comfortable daily driver that you could also take to the track. Subaru continues to sell the WRX STI, though the vehicle is outdated. Still, it costs $38,170, has a 310-hp engine, and comes with an advanced all-wheel-drive system as standard. Vehicles like the Hyundai Veloster N, Hyundai Elantra N, Volkswagen Golf GTI, and Volkswagen Jetta GLI aren't as powerful or as capable around corners as the Golf R.
While the 2022 Volkswagen Golf R may seem expensive, the hot hatchback typically commands a premium and rarely sells for less than MSRP. Previously, the performance vehicle was also excluded from most incentives VW was offering, similar to the Civic Type R. So, finding a good deal on the Golf R will be nearly impossible. If you want a hot hatchback with a punchy turbocharged engine, tons of technology, and a high-end cabin that's comfortable, the Golf R practically sits in a class of its own. Unfortunately, all of these things come at a premium price.