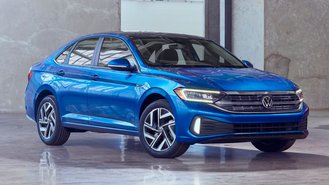 When Volkswagen announced that the 2022 Jetta was getting a redesign that included taking the engine from the more powerful Taos, we raised our expectations for what the fuel economy rating would look like. Coming in with an EPA-estimated 43 mpg on the highway, the new Jetta does not disappoint. However, this rating is for manual-transmission models and the overall score for the automatic is less impressive.
The full 2022 Jetta fuel economy ratings for the standard six-speed manual transmission come out to 29 mpg in the city, 43 mpg on the highway, and 34 mpg combined. Compared to last year's model, the city rating dropped only 1 mpg and rose by 2 mpg on the highway. Overall, the ratings are slightly above average for this class as key competitors like the Honda Civic six-speed manual transmission have one less mpg overall. The downside here is that not as many customers are looking for manual transmission vehicles these days as more people tend to prefer automatics.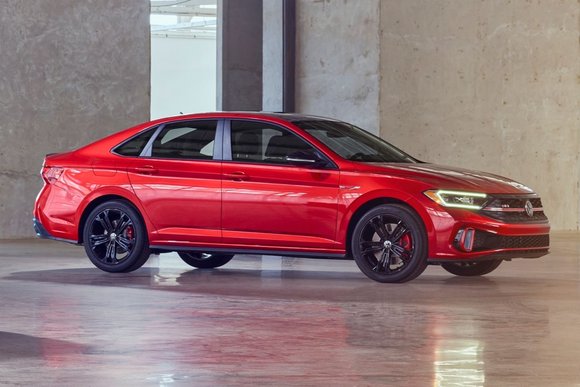 Luckily, Volkswagen also gave us the figures for the 2022 Jetta S model, which earned a rating of 31 mpg city, 41 mpg highway, and 35 mpg combined with its optional eight-speed automatic transmission. Also equipped with the eight-speed automatic transmission are the SE and SEL models, which have identical ratings of 29 mpg city, 40 mpg highway, and 33 mpg combined.
Automatic vehicles from other automakers like the Toyota Corolla performed similarly with 34 mpg combined, but the strongest competition to the Jetta would likely be the CVT-equipped Honda Civic, which has a 33 mpg city, 42 mpg highway, and 36 mpg combined.
Although the 43 mpg highway rating may raise some brows and the EPA claims that you can save as much as $1,500 at the gas station in a five-year span, the automatic models are likely to be more popular. With automatic transmission competitors showing similar numbers, it might be a hard sell to tempt consumers into buying a manual instead.
See Our Full Preview on the 2022 Volkswagen Jetta
Pictured: 2022 Volkswagen Jetta