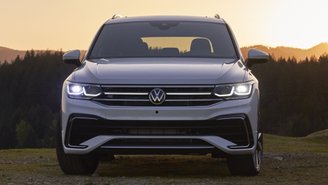 Volkswagen dropped an updated Tiguan for the 2022 model year with fresh styling and a revised infotainment system. The compact SUV's engine stays the same, but the Tiguan still manages to get a slight boost in fuel economy. Here's a quick look at how fuel-efficient it is and how it stacks up next to some of its chief competitors.
The EPA released its official fuel economy figures for the 2022 Tiguan. The SUV is rated at 23 mpg in the city, 30 mpg on the highway, and 26 mpg combined. All-wheel-drive models are rated at up to 25 mpg combined, while the sporty R-Line with AWD can get up to 24 mpg combined. Those figures are 1 mpg better than last year's model that was rated at up to 25 mpg combined.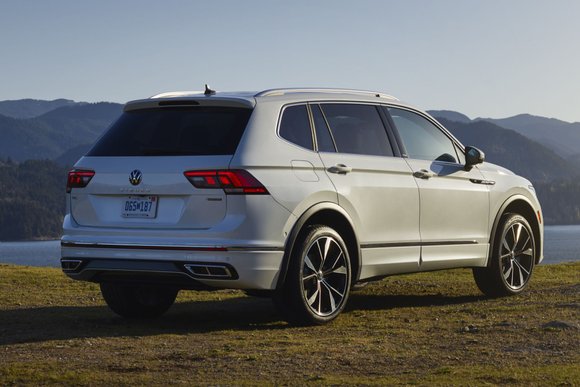 While it's nice to see the Tiguan get a slight boost in fuel economy over the previous year, a 1 mpg difference doesn't make it more competitive in the landscape. The Toyota RAV4 (30 mpg combined), Honda CR-V (30 mpg combined), Mazda CX-5 (28 mpg combined), Nissan Rogue (33 mpg combined), Hyundai Tucson (29 mpg combined), Chevrolet Equinox (28 mpg combined), Subaru Forester (29 mpg combined), and Ford Escape (30 mpg combined) all have far better fuel economy figures than the 2022 Tiguan.
The 2022 Tiguan's fuel economy figures may not be impressive, but the rest of the compact SUV's package is. Beyond the design changes on the outside and inside, the Tiguan now comes with updated tech features. An 8-inch digital gauge cluster and wireless smartphone compatibility, while higher trims come with touch-sensitive climate control buttons, capacitive buttons on the steering wheel, and a 10.3-inch digital gauge cluster.
Seeing VW use the same turbocharged 2.0-liter four-cylinder engine in the 2022 Tiguan as the previous model was disappointing, as that was one of the weakest points of the model. The good news is that the rest of the package is better than ever.