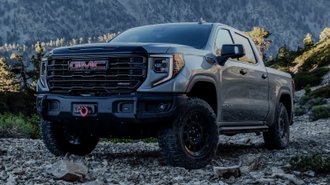 The configurator for the 2023 GMC Sierra 1500 has gone live and shoppers are in store for some sticker shock. Just like the Chevrolet Silverado 1500 which got a large price increase for 2023, the GMC Sierra 1500 will follow suit, but the premium truck's price has gone up by an even wider margin. GM Authority first reported on the 2023 Sierra 1500's price increase at the beginning of December, but now, GMC has made the configurator for the truck live for shoppers to explore. This gives us an official way of knowing just how much the truck will cost.
Pricing for the 2023 GMC Sierra 1500 including destination is below, as is a quick comparison to pricing from August 2023 when GMC increased the truck's price:
Sierra Pro: $38,995 (-$1,025)
SLE: $52,095 (+$1,100)
Elevation: $53,795 (+$1,200)
SLT: $57,795 (+$1,300)
AT4: $68,595 (+$1,495)
AT4X: $83,595 (+$3,395)
Denali $67,595 (+$1,095)
Denali Ultimate $82,940 (+$745)
These are large price increases and they're substantially higher than the price increases that affected the 2023 Chevrolet Silverado 1500. Chevy increased the price of its truck by between $800 and $1,800. GMC has also increased how much it's charging for destination for the 2023 Sierra 1500. Previously, the destination fee was $1,795, but now it's $1,895.
We're surprised to see pricing for the base Pro trim drop, and by such a wide margin, too. We're not shocked to see the AT4X be an outlier in the lineup and get the highest price bump compared to the rest of the lineup. The trim has been updated with some parts from AEV and is now a more capable off-roader than before.
While pricing for the GMC Sierra has gone for 2023, it's still one of the more expensive trucks available. The Ford F-150 ($36,240), Ram 1500 ($38,985), and Toyota Tundra ($38,760) are all more affordable. Where the price increase for the 2023 Sierra 1500 is really apparent is when you compare higher trim levels to competitors. The F-150 XLT ($44,595), Ram 1500 Tradesman HFE ($40,622), and Tundra SR5 ($44,265) are all far more affordable than the SLE trim.
Source: CarBuzz, GM Authority