While Toyota and Kia are hard at work on making their minivans look like SUVs, Honda is going in a different direction with the Odyssey. For the 2023 model year, the minivan gets a new sharp-looking Sport trim. The minivan's lineup has also been updated, as the base LX trim has been dropped, resulting in a $4,300 increase in pricing.
For 2023, the Odyssey will be available in EX, EX-L, Sport, Touring, and Elite trims. Pricing for the minivan starts at $38,635 with destination. Compared to the 2022 Odyssey which started at $34,335, the minivan has gone up substantially in pricing. Despite the price increase, the 2023 Odyssey is still priced competitively for the market. The Toyota Sienna starts at $36,500, the Chrysler Pacifica costs $38,690, and the Kia Carnival has a starting price tag of $33,595.
At first glance, Honda's trim strategy with the Odyssey may seem confusing, but the Japanese automaker did something similar with the Pilot and Passport last year. While Honda didn't provide a specific reason for why it made this decision, we suspect it has something to do with take rates for the base LX trim. Shoppers looking to purchase a new minivan probably skipped over the LX trim, so Honda decided it was best to simply get rid of it. While shoppers will be paying more for a 2023 Odyssey compared to a 2022 model, they are getting more features.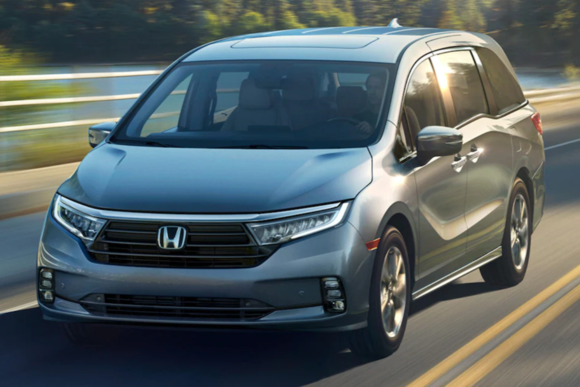 Plus, the price difference isn't nearly as large when you compare a 2023 EX against a 2022 EX. The 2022 Odyssey EX cost $37,735, which is $900 less than the 2023 model. Honda hasn't released the 2023 Odyssey's list of standard features, so we don't see a reason for the increase, but the 2023 Odyssey does come with the automaker's complimentary service plan.
The 2023 Odyssey is the first vehicle to be available with the automaker's Honda Service Pass. The complimentary service plan includes two years or 24,000 miles of free factory-scheduled maintenance. That, as far as we know right, is the only reason for the price increase.
The new Sport trim slots in between the EX and EX-L trim. It stands out against other trims with its black 19-inch wheels, gloss-black exterior trim pieces, black leather upholstery, red accent stitching, and red ambient interior lighting. The new Sport trim starts at $42,505.
Pictured: 2022 Honda Odyssey