The 2023 Kia Sportage represents a massive leap in a new direction for the compact SUV. Larger, more tech-forward, and more daring than before, the 2023 Sportage puts the all-new fifth-gen model into a new light. As expected, the 2023 Kia Sportage will be more expensive than the previous model year, requiring consumers to fork over an additional $1,900 over the outgoing model year.
Pricing for the all-new 2023 Sportage starts at $27,205 with destination for the base LX trim. Last year, the LX started at $25,305. While the base trim has gone up a large amount compared to last year, comparing the two EX trims reveals that pricing has actually decreased. The 2023 Sportage EX costs $29,205 with the 2020 model carrying a starting price of $29,605. So, the EX trim in the new Sportage is actually $400 less than before. Kia's rugged X-Pro trim will act as the 2023 Sportage's new range-topping models. The X-Pro Prestige will cost $38,005, which is $3,040 more than last year's SX Turbo trim.
Kia will offer the 2023 Sportage with hybrid and plug-in hybrid powertrains, though the automaker hasn't confirmed pricing for those vehicles yet. All of the other Sportages will come with a 2.5-liter four-cylinder engine that produces 187 horsepower. Front-wheel drive is standard on the majority of Sportages, while all-wheel drive is available for an extra $1,800. The X-Line, X-Pro, and X-Pro Prestige trims come with AWD as standard.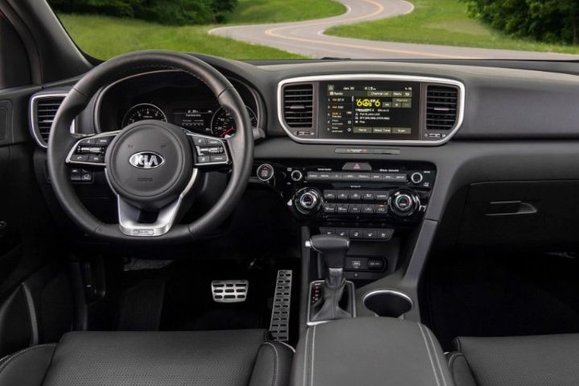 While the base LX trim is a large increase over last year's model, the 2023 Sportage brings a lot more features. A 12.2-inch digital instrument cluster, an eight-inch touchscreen, a Wi-Fi hot spot, LED exterior lighting, multi-device Bluetooth, and 17-inch wheels are standard. Available features include a 12.3-inch touchscreen, a wireless charging pad, and a Harman Kardon audio system. Kia's Highway Driving Assist system, which can handle a lot of the driving on highways, is also available on the 2023 Sportage.
Compared to the competition, the 2023 Kia Sportage is positioned right in the middle of the compact SUV class. The Honda CR-V ($27,625), Toyota RAV4 ($27,740), and Nissan Rogue ($27,925) cost more, while the Mazda CX-5 ($27,125), Subaru Forester ($26,570), and Hyundai Tucson ($26,745) cost less. The 2023 Sportage is currently available for sale at dealerships at the time of writing.
Build & Price Your Kia Sportage
Pictured: 2022 Kia Sportage