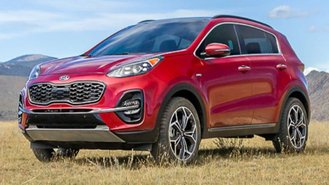 Last summer, the 2023 Kia Sportage made quite the splash. The fully redesigned compact SUV arrived with a bold design that's polarizing for the compact segment, a more spacious interior, new powertrains, and more impressive tech features. Despite growing in size and receiving a larger, more powerful standard engine, the 2023 Sportage is more fuel-efficient than the outgoing model.
The EPA published its official fuel economy figures for the 2023 Sportage recently. With front-wheel drive, the compact SUV is rated at 25 mpg in the city, 32 mpg on the highway, and 28 mpg combined. Those figures are for the new 2.5-liter four-cylinder engine with an eight-speed automatic transmission. The 2022 Sportage comes with a 2.4-liter four-cylinder engine and a six-speed automatic transmission that carries a combined rating of 26 mpg. That's an impressive jump, considering the new 2.5-liter engine brings 6 more horsepower.
For even better fuel economy, Kia will be offering the 2023 Sportage in hybrid and plug-in hybrid variants, but official figures from the EPA for the SUVs aren't available yet. Both the Sportage Hybrid and Plug-in Hybrid come with a turbocharged 1.6-liter four-cylinder engine and an electric motor. The difference is that the hybrid comes with a 44.2-kW electric motor, while the plug-in hybrid has a 66.9-kW motor. Additionally, the PHEV has a larger battery pack for an all-electric range of 32 miles.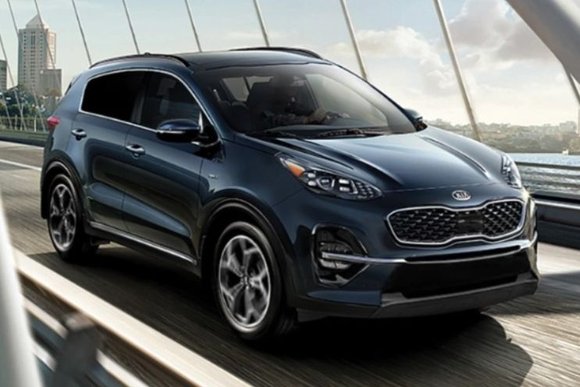 While we don't have official fuel economy figures for the electrified Sportages yet, Kia claims that the hybrid should get 39 mpg combined and have a range of approximately 500 miles on a tank of fuel. Kia didn't provide any fuel economy estimates when it unveiled the Sportage PHEV. With the 2023 Sportage sharing a lot of the same components as the Hyundai Tucson, we expect the Sportage Hybrid to get close to Kia's combined estimate, as the Tucson Hybrid is rated at up to 38 mpg combined. We also expect the Sportage PHEV to have similar fuel economy ratings as the Tucson PHEV. The latter can get up to 35 mpg combined and 80 MPGe combined.
Kia didn't say when the Sportage Hybrid will go on sale, but with the Sportage PHEV expected to go on sale in the third quarter of 2022, we expect the hybrid model to arrive around the same time. Official fuel economy figures for the SUVs should come out before the vehicles go on sale.
Learn More About the 2023 Kia Sportage
Pictured: 2022 Kia Sportage