Kia revealed the global 2023 Sportage earlier this June, but the South Korean automaker is now ready to finally provide some information on the model we can expect to see in the U.S. As we expected from the preview we received from the global model, the Sportage has grown in size, comes with a more powerful standard engine, will be offered with a hybrid powertrain, and arrives with a serious tech upgrade. Additionally, the U.S. market will be getting a first-ever X-Pro trim.
The X-Pro trim shouldn't be confused with the X-Line. The latter isn't nearly as off-road-ready but has a few goodies that make it look more rugged than the rest of the lineup. Standard features on the X-Line include 19-inch wheels, raised roof rack rails, gloss black exterior trim pieces, as well as unique front and rear bumpers. While the X-Line looks like it can tackle trails, it's really not meant to.
For consumers that want to hit a trail and do some light off-roading, the new X-Pro trim sounds promising. It features 17-inch matte black wheels, BF Goodrich all-terrain tires, and a multi-terrain all-wheel-drive system with seven modes. Visually, the X-Pro also has upgraded front and rear bumpers, gloss black exterior trim, LED fog lights, and an available two-tone roof. Compared to the outgoing Sportage, the 2023 model has 1.5 inches of more ground clearance when equipped with all-wheel drive. With the upgrades, the X-Pro offers up to 8.3 inches of ground clearance.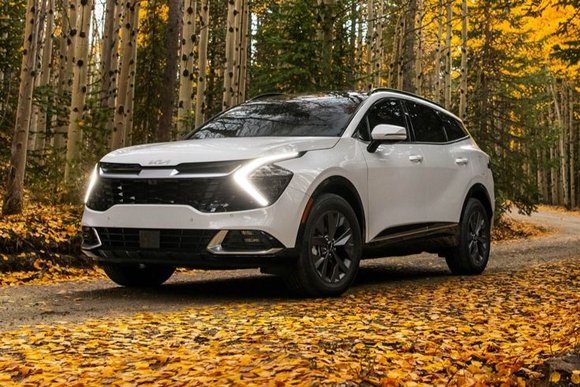 Under the hood, the new Sportage features a more powerful 2.5-liter four-cylinder engine that's paired with a new eight-speed automatic transmission. Kia claims that it's targeting 187 horsepower, which represents an increase of six hp from the outgoing model. A hybrid powertrain will also be offered, but Kia isn't ready to provide any information on that model yet.
With the new X-Line and X-Pro trims, Kia is trying to cash in on the off-road craze that became popular during the COVID-19 pandemic. Based on the specs that Kia has released, it doesn't look like the X-Pro trim is as rugged as some of the competition on the market. The Subaru Forester Wilderness, Ford Bronco Sport, and Jeep Cherokee Trailhawk, offer more off-road capability than the X-Pro trim. If anything, it sounds like the Sportage X-Pro trim lines up well against the Toyota RAV4 TRD Off-Road.
Pricing and an official on-sale date haven't been announced yet, but with the compact SUV expected to go on sale in the first quarter of 2022, we expect to get this information in the near future.