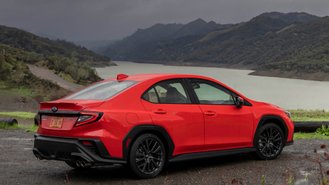 Subaru announced pricing for the 2023 WRX. Despite there being no significant model year changes, all four WRX trims received a price increase of $1,000. Here's what that means for Subaru's sportiest sedan.
As previously mentioned, the 2023 WRX is a carryover model, although it did just receive a substantial (and long-awaited) redesign for the 2022 model year. Pricing has now surpassed the $30,000 mark, with the Base trim starting at $30,605. The remaining trims in ascending ritziness are the $33,105 Premium, $39,745 Limited, and the $43,395 GT.
$1,000 works out to about a 3.3% increase over last year for the Base WRX, which is on the steeper side but not totally unheard of across the industry. However, the lack of a sub-$30,000 option may scare off some would-be buyers.
The Base trim is now more expensive than the Honda Civic Si, but still carries a significant power advantage (271 hp to the Si's 200) and offers all-wheel drive. The Base WRX is a tad spartan in the interior, however, and upgrading to the Premium puts the price in Hyundai Elantra N territory. The N is more powerful with 265 hp and comes practically fully loaded for $33,745, but is only available in front-wheel drive.
There is also worrisome price news for the other end of the WRX lineup. The GT trim didn't seem like a very good deal last year even before the increase. Sure, it comes with goodies like adaptive dampers, racier Recaro seats, and sticky summer tires, but well over $40,000 for an automatic-only WRX with no more power than the Base always seemed like too much.
Unfortunately for the WRX GT, it sounds even worse now that the Honda Civic Type R has come out of hibernation. After Honda didn't offer a 2022 model, the Type R is back for model year 2023 with a starting price of $43,990. Although it's front-wheel drive only, the 315 hp Type R runs circles around the comparatively underpowered WRX (at least when it's dry out). The Type R is a much better car to lease as well.
The $1,000 price increase certainly doesn't help the 2023 WRX, but it doesn't do anything earth-shattering to its value either. Assuming you stick with a Base or Premium trim, it's still a solid value for those looking for a practical all-wheel drive performance car. The Limited and GT were not good deals before the price hike, and that didn't do them any favors.