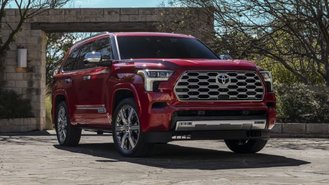 Consumers are still having a hard time finding new cars in 2023 because of supply chain issues and high demand for new vehicles. At the 2023 NADA Show, Toyota warned its U.S. dealers that inventory would remain limited for the first part of 2023, reports Wards Auto. For Sequoia drivers, this means wait times as long as one year for certain models.
David Christ, Toyota's group vice president and general manager of the Toyota Division, spoke at the NADA Show and provided some information on its inventory issues. The automaker claims that it's hard at work on rebuilding its new-vehicle inventory as quickly as possible, but believes the situation won't improve quickly.
"We're going to build every one we can get parts for," said Christ. He told Wards Auto that the average U.S. dealer ended with 2022 with just a five days supply of vehicles. The low inventory is due to high demand and supply-chain issues.
Before Toyota works on building inventory at dealerships, the automaker will be trying to get vehicles into shoppers' hands. "What we tell the dealers is, 'You may be getting more cars, but you're not going to see a stock increase at first,'" because most of the cars arriving at dealerships will be pre-sold and go straight to customers. "We'd much rather park them in (customers') driveways than in a dealer's lot."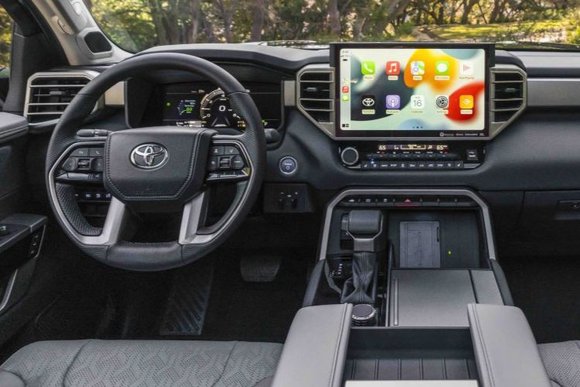 According to Christ, customers are waiting a long time for their vehicles. Consumers that purchased a Toyota Sequoia could be waiting for up to a year. The full-size Sequoia was never stocked in large numbers to begin with, so current supply chain issues have made the situation more precarious.
Toyota introduced a fully-redesigned Sequoia for the 2023 model year. The previous generation of the Sequoia was introduced in 2008 and ran until 2022. So, people were eagerly waiting for Toyota to come out with a new Sequoia.
The third-gen Sequoia marks a massive improvement over the previous generation of the Sequoia with a more upscale cabin, high-tech features, and a standard 437-horsepower hybrid powertrain. The SUV is available with a 14-inch touchscreen and comes with a 12.3-inch digital instrument cluster, which is a massive improvement over the previous seven-inch screen. Instead of a 5.7-liter V8 engine, the 2023 Sequoia comes with a twin-turbo 3.4-liter V6 engine that's paired with an electric motor. It may be a hybrid, but the powertrain produces more power than the outgoing V8.
While the Sequoia still trails other full-size SUVs in key areas like space in the third row and on-road handling. Still, the Sequoia has always been a popular choice with Toyota fans that want a reliable, full-size SUV for the entire family.
Source: Wards Auto