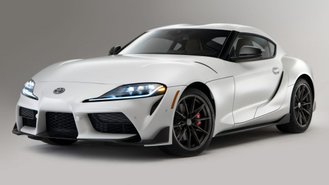 After years of speculation, Toyota has finally announced that the GR Supra will be available with a manual transmission. For the 2023 model year, the sports car will gain an optional six-speed manual transmission and arrives with a host of changes. If there's some bad news, it's that the manual gearbox is only available with the six-cylinder engine.
While the Supra and the BMW Z4 are identical twins, BMW doesn't offer its version of the sports car with a manual transmission. So, Toyota's engineers developed a special transmission just for the Supra with the turbocharged 3.0-liter six-cylinder engine that makes 382 horsepower. The automaker probably put a lot of time and effort into making this happen.
The six-speed transmission will only be available on the Supra 3.0, the 3.0 Premium, and a new limited-edition A91-MT trim. Toyota only plans to offer 500 units of the A91-MT trim in the U.S. with the special trim being available in Matte White and CU Later Gray. The trim also features Cognac leather upholstery, an Alcantara shift knob with a GR logo, a red Supra badge on the outside, special 19-inch wheels, and red strut tower braces under the hood.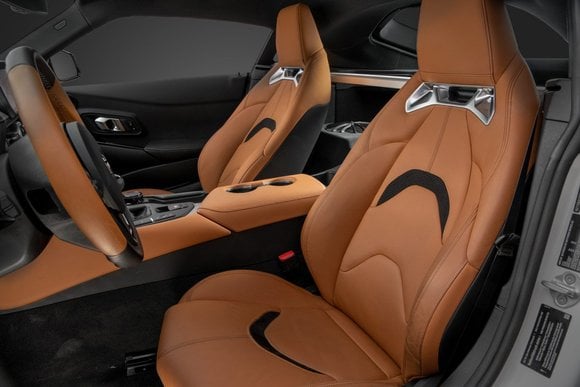 Supras with the manual transmission also come with some changes compared to sports cars with the eight-speed automatic. There's a shorter final-drive ratio and a rev-matching function that can be turned off. Other changes include revised stability control, an updated traction control system, and an overhauled center console.
We don't have to tell you just how special a sports car with a manual transmission is now. Competitors to the Supra that are available with a manual transmission include the BMW M4, Ford Mustang, Chevrolet Camaro, upcoming Nissan Z, and Porsche 718 Cayman. The Supra is already one of the most enjoyable sports cars to drive on the market. We suspect that the available manual transmission will make the sports car one of the best options on sale. We doubt customers will be able to find a 2023 Supra with a manual gearbox for a reasonable price at a dealer, but that's a different story.
Toyota hasn't confirmed pricing for the 2023 Supra yet, so we don't know how much the manual transmission will cost. With manual transmission being in short supply and the fact that Toyota's engineers had to do a lot of work to fit it into the Supra, we suspect the six-speed will require some extra money over the automatic.
The 2023 Supra arrives with some other changes for the new model year. The sports car comes with updated suspension, a new power steering system, and a new Hairpin+ feature that's meant to be used on steep uphill hairpin turns.
See the Best Sports Cars of 2022
Pictured: 2023 Toyota Supra