As automakers want to emphasize higher-margin vehicles, we're seeing more and more base trims removed from model lineups. The Nissan Armada is the latest vehicle to follow suit, with the entry-level S model conspicuously absent from the 2024 model's press release. As a result, the now-base SV trim carries a hefty $4,750 increase over the 2023 model. Here's everything you need to know about the 2024 Nissan Armada's price increase.
More and more automakers are leveraging their higher-end models, meaning consumers get more features, but at a higher price. Nissan has been getting in on this trend, ditching the Murano's entry-level trim for the 2024 model year. Now, they're following suit with their largest SUV.
2024 marks the end of the entry-level Nissan Armada S. While the base model Armada might not necessarily be mourned by many, its departure makes for a significant shift in the full-size SUV's packaging. Even though the remaining SV and higher trims received a reasonable $150 price increase to coincide with the new model year, the discontinuation of the S brings the cost of entry into the Armada family up to $57,345, $4,750 more than in 2023.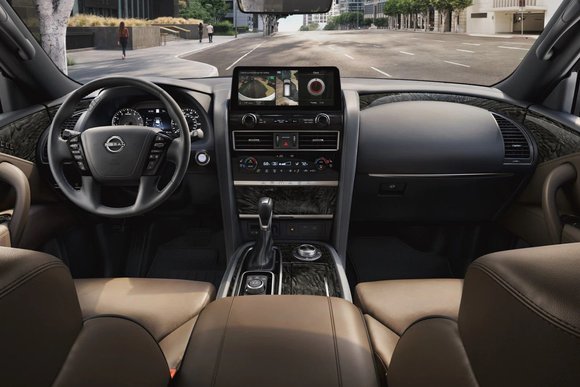 The SV does offer several features that weren't included on the S, including remote start, heated front seats, leatherette upholstery, auto-dimming rearview mirror, heated power-folding side mirrors, and built-in Amazon Alexa. Those aren't insignificant additions, but now customers are forced to pay extra for them. It's also worth noting that the Armada doesn't receive any new features for the 2024 model year.
This isn't a huge development if you were planning on buying or leasing an upper-trim Armada, but you'll be forced to try to find a 2023 model on a lot if you had your eye on an S. The S model also positioned the Armada favorably among its competitors in terms of price, as it significantly undercut most of the full-size SUV segment. The Armada is still the most affordable, but the gap between it and the Ford Expedition is now under $100. It still boasts a smooth and powerful standard V8 powertrain, but the Nissan Armada can no longer ride on the strength of its affordability in 2024.
Explore This Month's Best SUV Lease Deals Under $300
Pictured: 2023 Nissan Armada