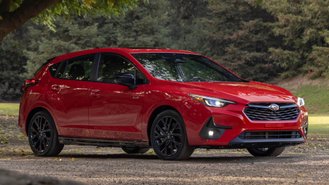 Although the new 2024 Subaru Impreza hatchback may look pretty similar to the outgoing model, there are some noteworthy changes with the model's redesign. The Impreza is no longer offered as a sedan or with a manual transmission, but 2024 marks the return of the rally-inspired RS trim. Here are some reasons why the Impreza RS may be worth the wait for some shoppers.
The Subaru Impreza RS was last on sale in the US in 2001. It served as the highest-performance Impreza model, as the Impreza WRX and WRX STI were not yet offered stateside. The RS offered a larger engine than the other Impreza trims at the time and also featured suspension and appearance upgrades, as well as an optional limited-slip differential for better road handling.
The 2024 Impreza RS features a similar array of upgrades as its predecessor. It receives a larger 2.5-liter engine that develops 182 hp and 178 lb-ft of torque. Those numbers aren't at all massive, but provide a substantial boost over the modest 152 hp 2.0-liter found in the lower Impreza trims. The new RS also features a WRX-derived steering rack, 18" alloy wheels, and retuned suspension.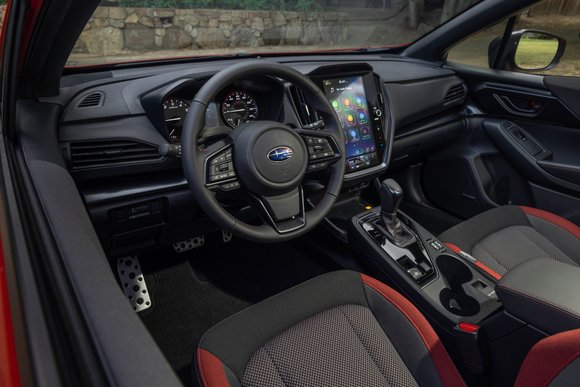 Unfortunately for three-pedal enthusiasts, the 2024 Impreza RS will not be offered with a manual transmission like its early 2000s counterpart. It features the same CVT unit as the other 2024 Imprezas, albeit with paddle shifters that allow drivers to pretend they're driving an eight-speed automatic.
The new RS isn't as dedicated of a performance car as the original one, but that was likely by design. The 2024 Impreza didn't get a power increase to turn the Impreza into a rally car; that's the standalone WRX's job. Subaru knew the outgoing Impreza was underpowered and frankly dull compared to livelier rivals like the Mazda3 and Honda Civic, so they upped the available power to make the small car more competitive. The Subaru lineup also had a large gap between the Impreza and the WRX, whereas other makes feature sportier offerings beneath the dedicated high-performance models, like the Civic Si and the Elantra N-Line.
The new Impreza RS still evokes puppies and National Park stickers more than a rally car pulling a four-wheel drift, but it marks a significant step for the Subaru lineup. Buyers who valued the Impreza's impressive safety record and standard all-wheel-drive system but wished it had more power should be thrilled. Subaru took a sensible but dull car in the Impreza and made it more interesting and engaging by reintroducing the RS, and although you won't be challenging any Honda Civic Type R's in one (at least successfully), the added oomph makes it a more attractive buy compared to Imprezas fitted with the base engine.