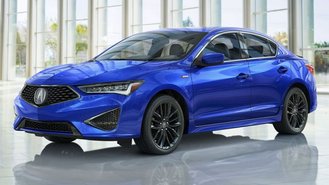 With Acura set to come out with an all-new Integra shortly, it's made us question the ILX's fate. The subcompact sedan went on sale in 2013 and hasn't received a major update since. Well, we know what's going to happen to the ILX thanks to a report by Motor1, which claims that the ILX will be discontinued after the 2022 model year.
Acura spokesperson Chris Naughton confirmed the news to the outlet, stating that "the 2022 model year is the final model year for the ILX, in anticipation of the new Integra." This makes sense, as the previous Integra was Acura's entry-level vehicle and it looks like the automaker wants to continue the trend with the upcoming model.
"The new Integra was developed from day one to deliver on the original lineage that began with Integra back in 1986. It is a continuation of that formula that brought so many first-time buyers into the Acura family and will be the new entry point to the brand," Naughton told Motor1.com.
The ILX came out in 2013 with a simple mission: to act as a gateway to the brand. The subcompact sedan had its best year when it came out, accounting for 20,430 units sold. Since then, sales have been heading downward, with Acura only selling 13,900 ILX sedans in 2021. With the ILX starting at $28,345 (with destination) and the new Integra expected to carry a starting price tag of $30,000, there's a little too much overlap between the two vehicles to justify keeping the ILX around.
Acura is expected to begin taking pre-orders for the Integra on March 10. We know that the sporty hatchback will come with a turbocharged 1.5-liter four-cylinder engine, but we don't know what the exact output will be. Acura will offer the Integra with a six-speed manual transmission and an automatic gearbox, but we don't know what kind just yet. With production of the Integra set to begin before the end of the year, we're hoping to get more information on the model and any possible variations, like an Integra Type S, shortly.
Acura isn't the only automaker to kill its entry-level model. At the beginning of February, Mercedes-Benz announced that it would discontinue the A-Class after the 2022 model year. Consumers looking to purchase a small affordable luxury car only have a few options to explore like the Audi A3, Cadillac CT4, Mercedes-Benz CLA-Class, and BMW 2-Series.
Pictured: 2022 Acura ILX (Top), 2023 Acura Integra (Middle)