High-performance wagons may be incredibly popular in Europe, but the Audi RS6, Mercedes-Benz E63 AMG, and Porsche Panamera Sport Turismo are the only real options that shoppers in the U.S. have if they're looking for a sporty wagon. So, when MotorTrend reported that Audi was going to bring the RS4 Avant, enthusiasts became giddy with joy. Unfortunately, that report appears to have been a rumor. One that Audi has quickly shot down.
The original report from MotorTrend stated that an Audi employee confirmed that the RS4 Avant was coming to the U.S. at the launch event for the RS5 Competition and the RS4 Competition roughly six months ago. The outlet's source confirmed the news again earlier this month and MotorTrend pointed toward the popularity of the RS6 as part of the automaker's decision-making process behind the RS4 Avant.
Well, Audi was quick to tell MotorTrend, and a host of other automotive outlets, that the RS4 Avant would not be coming to America. "There is no plan to bring the RS4 to the U.S. market at this time," an Audi spokesperson told MotorTrend. The outlet is reading in between the lines of the comment and claims that the RS4 Avant will be sold in the U.S. for its two final years of production in 2024 and 2025.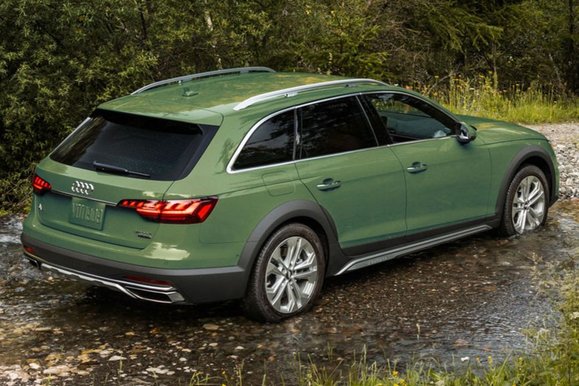 Other outlets, like The Drive and Road and Track received more definitive responses. Both of those publications received statements from Audi that claimed the automaker has "no plans to bring the RS4 to the US market." That's a pretty straightforward response.
It's unfortunate, because we're sure the RS4 Avant would be just as popular as the RS6. The high-performance compact wagon comes with a twin-turbo 2.9-liter V6 engine that's rated at 444 horsepower and 442 pound-feet of torque. Thanks to the engine and an all-wheel-drive system, the wagon can get to 60 mph in just 3.5 seconds, while offering a usable amount of cargo space.
While shoppers in the U.S. won't be able to purchase the RS4 Avant, we do get the A4 Allroad, which is the rugged version of the A4 wagon that's meant for light off-roading. It's not in the same league as the RS4 Avant, but the A4 Allroad's SUV-like design makes it an easier sell for Audi in the U.S.
Source: MotorTrend
Pictured: 2023 Audi A4 Allroad