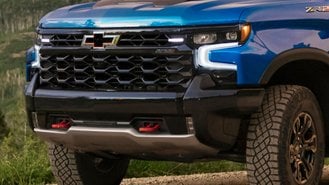 Ford is credited with starting the crazy powerful, high-flying pickup truck segment with the F-150 Raptor that debuted in 2010. Since then, the Raptor has grown even more powerful and capable. There's also new competition from Ram with the TRX. Chevrolet doesn't have a direct competitor to either the Raptor or the TRX, but that could change in the future, as new trademarks point toward a possible rival.
As CarBuzz reports, General Motors recently filed a few trademarks with the United States Patent and Trademark Office. The trademarks are for the ZRX and ZH2 names. The outlet believes that the two names point toward two new trucks: the ZRX will be a high-performance off-roader to take on the Raptor and TRX and the ZH2 will be used for a hydrogen-powered truck.
These aren't the first time we've heard about the ZRX or the ZH2. The ZRX name was originally pitched in 2019 for an off-road oriented trim for the Silverado 1500 and the ZH2 can be traced back to 2016. Chevy released the Colorado ZH2 in 2016 as a hydrogen-powered pickup for the U.S. Army. Back then, the truck was being used to see if a hydrogen-pickup truck was effective for off-road missions. A Silverado ZH2 was introduced in 2018 by GM Defense.
While trademark filings are exciting, they don't always equate to real-world vehicles. Sometimes, car companies just trademark names to ensure other brands don't get them. Seeing GM trademark names that we've seen before is surprising, though.
A hydrogen-powered pickup truck is especially interesting, as fuel cell vehicles continue to be a niche market with only a few options on sale. Furthermore, Chevrolet is launching the Silverado EV and is investing heavily in its electrification goals, making a hydrogen-powered truck an interesting choice for the brand.
Either way, we think we'll be waiting a few years to get more information on the rumored trucks from Chevrolet.
Pictured: 2022 Chevrolet Silverado 1500 ZR2 (Top), 2022 Ford F-150 Raptor (Middle)
Source: CarBuzz