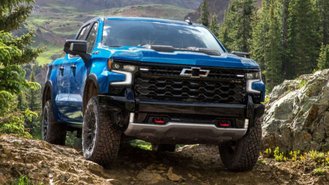 Off-roading is more popular than ever before. Options like the Ford F-150 Raptor and Ram 1500 TRX prove that consumers are willing to shell out loads of cash for a highly-capable truck. Having an answer to Ford and Ram's other pickup trucks, Chevrolet is finally ready to come out with its own off-road-ready full-size pickup truck. Unfortunately, Chevrolet didn't choose the name of a prehistoric dinosaur for its off-roader. Instead, the automaker just came out with the 2022 Chevrolet Silverado ZR2.
Compared to the regular Silverado 1500, the ZR2 is clearly the one for drivers looking to tackle some rugged terrain. It has a more aggressive design thanks to a high-approach front bumper that's made out of steel, a unique grille, red tow hooks, 18-inch wheels, 33-inch off-road tires, heavy-duty skid plates, a black hood insert, and special ZR2 badges. The bumper has removable end caps in case their damaged after a hard day of off-roading, while the dual-exhaust system has been repositioned to reduce the risk of damage.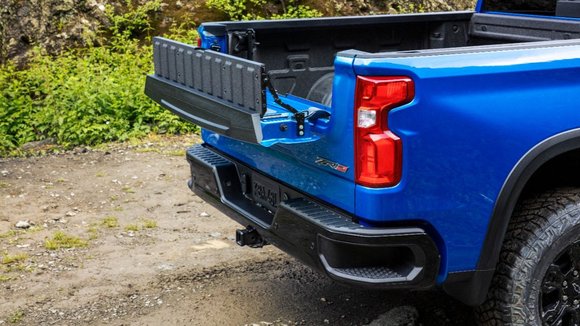 Chevrolet has fitted the ZR2 with Multimatic DSSV spool-valve dampers. The high-tech dampers provide more suspension travel than the Silverado 1500 Trail Boss. Chevrolet didn't provide specific figures, but claims that the Multimatic dampers, along with upgraded springs, increase maximum front and rear suspension travel over the Trail Boss trim.
The automaker has also made unique suspension and chassis calibrations to the ZR2, including Terrain Mode that allows for one-pedal rock crawling. Front and rear e-locker differentials are also included with the ZR2.
Under the hood, the Silverado ZR2 will come with a 6.2-liter V8 engine making 420 horsepower and 460-horsepower. That's not as much as the Raptor or TRX, but it's plenty for off-roading. It's also good enough for a maximum towing capacity of 8,900 pounds and a payload capacity of 1,440 pounds. The engine can breathe a little easier in the ZR2 thanks to Chevrolet's "flow-tie" emblem.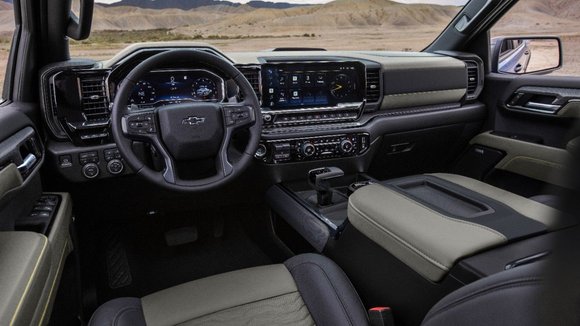 As with other 2022 Silverado 1500 models, the ZR2 gets a significant interior upgrade. The dashboard now features a 13.4-inch touchscreen and a 12.3-inch digital gauge cluster. Chevrolet has added nicer interior materials, wireless Apple CarPlay, Android Auto compatibility, and Google voice assistant.
Chevrolet hasn't announced how much the 2022 Silverado ZR2 will cost, but we expect pricing to mirror the current range-topping trim's price tag of roughly $56,000. The Raptor costs $65,840 (with destination), while the TRX carries a starting price tag of $72,120. Without the same power, we expect the ZR2 to be more affordable than its main competitors. We expect to see the ZR2 go on sale next spring.