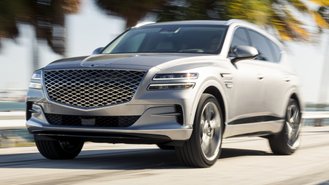 The Genesis GV80 was thrust into the limelight recently. Not because it's the South Korean luxury brand's first attempt at an SUV or because it's an absolute bargain in the midsize segment, but because of a recent automobile accident involving Tiger Woods. Woods sustained injuries during a rollover car crash while behind the wheel of a GV80. The accident has brought up questions about the GV80's safety.
For those not in the know, Woods was involved in an accident while driving a GV80 earlier this week. The midsize SUV's front end bumpers were destroyed after the SUV rolled several times after Woods crashed into a raised median. No other vehicles were involved in the accident. Pictures of the accident painted a grim picture and Sherriff's Deputy Carlos Gonzalez stated that "it's very fortunate that Mr. Woods was able to come out of this alive." The GV80 played a large role in saving Woods' life.
While the exterior of the GV80 appeared to be mangled, the interior held up well, cocooning Woods in safety. "The interior of the vehicle was more or less intact which kind of gave him the cushion to survive what otherwise would've been a fatal crash," said Los Angeles County Sheriff Alex Villanueva during a press conference.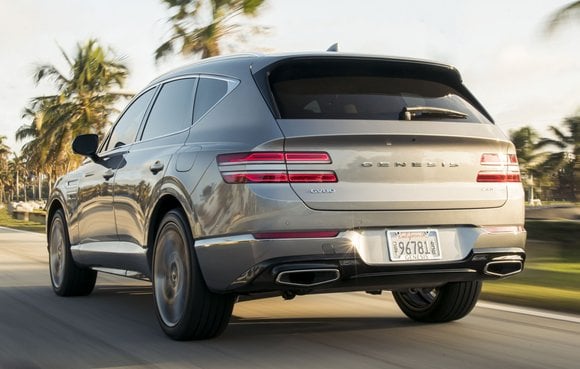 For anyone curious about what kind of safety features the GV80 comes with, here's a breakdown. Every GV80 comes with 10 airbags, including some that are out of the norm, like second-row side airbags, a driver knee airbag, and a front center airbag. Stability control, traction control, anti-lock brakes, and brake assist are also included as standard equipment, but these are standard on nearly all vehicles sold in the U.S.
More modern standard safety features on the new GV80 include rear cross traffic alert, lane departure warning, lane keeping assist, forward collision warning, adaptive cruise control, automatic emergency braking, pedestrian detection, a driver attention monitor, and safe exist assist. Genesis also includes its Highway Driving Assist II system, which uses adaptive cruise control, lane keeping assist, and lane departure warning to handle the majority of driving on the highway. Available features include forward attention warning, which uses a forward facing camera on the instrument cluster to monitor if the drive is paying attention to the road ahead, rear automatic emergency braking, blind spot monitoring, and a head-up display.
The 2021 Genesis GV80 hasn't been tested by the Insurance Institute for Highway Safety (IIHS) or the National Highway Traffic Safety Administration (NHTSA). We think the midsize SUV will earn the IIHS' highest award of being a Top Safety Pick+ since that's what the G70 and the G90 sedans earned. The IIHS announced that testing is currently underway. None of Genesis' 2021 models have been tested by the NHTSA, but we don't see a reason why the GV80 wouldn't earn a five-star overall safety rating.