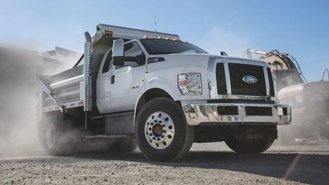 Ford has added an unusual raw materials surcharge on select 2022 and 2023-model-year fleet vehicles in response to supply chain issues. According to a letter sent to dealers, the changes involve base price increases of up to $600. While the average consumer may not be affected, recent price hikes could suggest otherwise.
In its letter to dealers, Ford says "Due to significant and unanticipated supplier cost increases on key components, we are forced to implement an equalized raw materials surcharge on all affected vehicles." Starting on February 28th, the move affects the following "for the remainder of the current model year production."
$600 Raw Materials Surcharge on 2023 F-650 / F-750 Medium Duty Straight Trucks and Tractors
$400 Raw Materials Surcharge on 2022 F53 Motorhome and F59 Commercial Step Van stripped chassis
$225 Raw Materials Surcharge on 2023 E-Series (Cutaway and Stripped Chassis)
Although Ford's letter doesn't attribute the price increases to a particular event, a global chip shortage has resulted in numerous supply chain issues for major automakers. As we reported yesterday, the cost of aluminum in February reached its highest level since 2018 after the recent Russian invasion of Ukraine.
Will the average car buyer see a Raw Materials Surcharge, too? That's unclear. We think it's more likely that the company could quietly bake additional costs into the prices of its vehicles. After all, Ford Bronco Sport pricing increased yesterday by up to $1,000, with a similar price hike today on the full-sized Expedition.
As it stands, consumers have a number of challenges related to an inventory shortage. To complicate matters, Ford is cutting the configurations it stocks at dealers by up to 80%. In a set of changes that will take effect next month, Ford will begin paying dealers bonuses based on how fast they can sell cars on the lot.