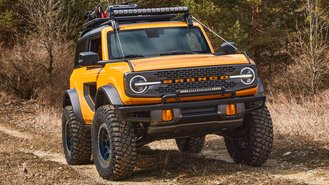 Unless you've decided to go off-grid for the past year, you already know how big of a deal the new Ford Bronco is. After receiving approximately 230,000 reservations when order books opened up, Ford delayed the SUV to summer 2021, resulting in a roughly 18-month wait for consumers that didn't reserve a model. If that isn't a clear indicator of just how popular the SUV is, we're not sure what is. To keep the hype surrounding the SUV going, Ford is looking to launch dedicated showrooms for the SUV.
The news comes from Automotive News that reports roughly 100 Ford dealers are looking to build showrooms for the Bronco. These showrooms will be built near or, in some cases, connected to an existing Ford dealer, but they'll be distinguishable because they'll sport the Bronco's horse logo instead of the automaker's Blue Oval.
The outlet claims that the idea for a dedicated showroom for the highly-anticipated Bronco came from dealers that have been pushed by Ford to find ways to promote the Bronco brand. A separate store, states Automotive News, is just one of several voluntary facility improvements that Ford has come up with for dealers to showcase the Bronco name.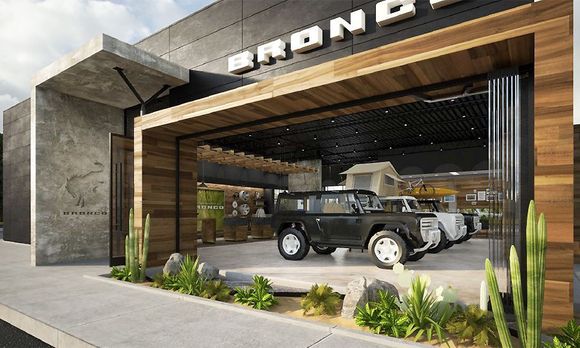 The design that Ford and dealers came up with include a 3,800-square-foot building with an outdoor fire pit, a room to display up to three SUVs, as well as an indoor wall to showcase available accessories. Wood accents, a stone entryway, and black paneled siding will be found on the outside.
Ford may claim that its decision to introduce standalone Bronco dealers is a way to highlight the SUV's return, but it's also a way to keep up with Jeep. Last year, Jeep announced that it too would be adding hundreds of standalone showrooms. When Jeep still belonged to FCA, the off-roading-oriented automaker had 14 standalone dealers in place in 2019. Some of the early standalone dealerships reported far more impressive sales figures than dealers that sold FCA's full lineup of vehicles.
With hundreds of thousands of reservations and wait times of roughly 18 months, Ford is confident that the Bronco will be a huge hit. Even the Bronco Sport, which is a smaller, more road-oriented model compared to the larger Bronco, has been popular. Earlier this January, we saw dealers offer 2021 Bronco Sport models with markups as high as $10,000 above MSRP. Usually, dealerships only markup vehicles that they know are going to be popular. We're sure some consumers purchased the Bronco Sport despite the markups.
Jeep buyers love their off-roaders; Ford is hoping that it can garner the same affection for its Broncos.