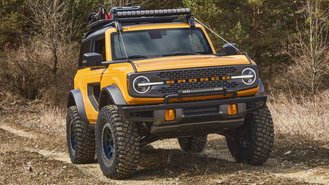 Even though the Ford Bronco and Bronco Sport aren't officially on sale yet, the SUVs have been a huge success for the American automaker. Clearly, the gamble of resurrecting the name in capable off-roaders worked off for Ford. Unfortunately, shoppers that reserved one of the off-road-ready Broncos will have to wait a bit longer, as the SUV has been delayed to the end of summer 2021, reports Autoblog. The outlet confirmed the news with Ford spokesperson Jiyan Cadiz.
Originally, both two- and four-door Bronco models were expected to come out spring 2021. The delay will see consumers have to wait a few extra months until the end of next summer. There's more bad news for consumers that choose a Bronco with a manual transmission and the optional Sasquatch package, as those models are being pushed back from late 2021 to an early 2022 launch.
Additionally, the outlet claims that order banks for the Bronco will now open in the middle of January 2021 instead of December 7, 2020. As one would expect, this is going to push back the timeline for when consumers that reserved a model will be able to finalize their builds with their local dealers. Originally, reservation holders were expected to confirm and complete their 2021 Bronco builds by January 31, but now, that's been pushed back to March 19, 2021.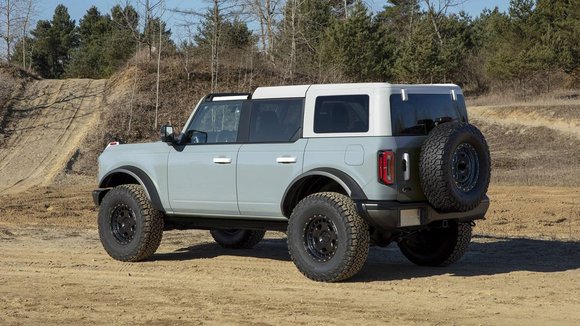 The reason for the delay has to deal with COVID-19-related issues the automaker is facing. "All-new Bronco two-door and four-door customer deliveries will begin in the summer, rather than the spring, due to COVID-related challenges suppliers are experiencing," Cadiz said. "We are committed to building Broncos with the quality our customers expect and deserve."
A few months isn't a huge delay, but it wasn't really expected. Consumers that reserved a Bronco were already looking at a long wait time, and this delay draws the wait time even further. Autoblog claims that Ford received more than 190,000 reservations for the 2021 Bronco, while an earlier report from Automotive News in September stated that the automaker was looking to convert 75% of reservations into sales. We don't see the delay affecting Ford's ability to hit that conversion rate, as the '21 Bronco is one of the hottest vehicles to be introduced in the past few years.
Reservation holders probably won't too upset about the delay. Consumers that don't have a reservation, though, are sure to be a little upset, as they'll have to wait roughly a year before they can purchase an SUV at a dealership.
For consumers that are interested in purchasing a Bronco Sport, there's some good news. Car & Driver reports that the delay does not affect the smaller SUV. The 2021 Bronco Sport is arriving at dealerships this month. There's no indication that other new vehicles, like the Mustang Mach-E and F-150 will be seeing delays. Since Ford isn't providing any specific information on what supply issues it's having, it's difficult to say whether other vehicles will also be delayed.