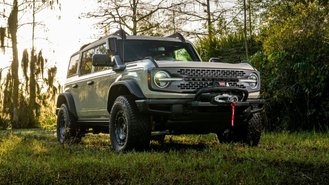 While a lot of attention is being put on the upcoming Ford Bronco Raptor, the American automaker also has plans to bring the new Everglades model to market this summer. The Everglades trim brings more off-road hardware to the Sasquatch package and is aimed at drivers planning to travel through swampy areas. While debuting the Everglades at the Chicago Auto Show, Ford announced that the SUV will start at $54,495 with destination.
That price tag makes the Everglades $3,525 more than the current range-topping Wildtrak trim, but $16,996 less than the upcoming Bronco Raptor. The Everglades is a serious off-roader that's aimed at a small subset of consumers, so its higher starting price tag relative to the other Bronco models currently only sale makes sense.
For just shy of $55,000, consumers will get a Bronco that comes with the Sasquatch package and a whole host of upgrades. The Sasquatch pack brings front and rear locking differentials, underbody bash plates, a shorter final drive ratio, 35-inch tires, and a lift kit. On top of these features, the Everglades brings 17-inch wheels, mud-terrain tires, flat-top fenders, a molded-in hardtop roof, rock rails, and extra transmission cooling vents. Other special touches on the Bronco include a factory-installed Warn Zeon 10-S winch, a factory snorkel, and new vents. The result of the changes is a Bronco that has a wading depth of 36.4 inches, almost three inches higher than any other Bronco in the lineup besides the Raptor.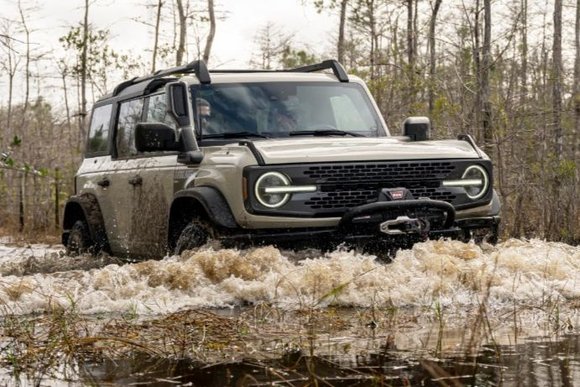 Where the Everglades disappoints is with its powertrain. Ford will only offer the model with the turbocharged 2.3-liter four-cylinder engine that's paired with a 10-speed automatic transmission. While the engine makes a peppy 300 horsepower and 325 pound-feet of torque, Ford won't be offering the more powerful turbocharged 2.7-liter four-cylinder that's found in other Broncos. That engine comes standard on the $50,970 Wildtrak trim and is rated at 330 hp and 415 lb-ft of torque. Ford could've made this decision to ensure a wide gap between the Everglades and Raptor.
On the inside, Ford has focused on ensuring things are easy to clean, as trekking through swamps can be a dirty affair. The SUV comes with marine-grade vinyl upholstery, rubberized floors with drains, and green stitching while featuring a 12-inch touchscreen with Ford's SYNC 4 infotainment system.
The Everglades will be available in five colors, with a new Desert Sand being exclusive to the model and being available in limited quantities. This SUV is only being offered to existing Bronco reservation holders. Consumers that haven't received a build date for their Bronco can switch their current order to an Everglades model. Ford will begin accepting orders for the Bronco Everglades in March with the SUV expected to officially arrive in the Summer.
Check Ford Bronco Pricing Near You
Pictured: 2022 Ford Bronco Everglades