With a twin-turbocharged 3.0-liter V6 engine that makes roughly 400 horsepower, we weren't expecting the Ford Bronco Raptor to be a fuel-efficient SUV. With massive 37-inch all-terrain tires, a body that's been widened by 8.6 inches, and 13.1 inches of ground clearance, the Bronco Raptor is a purpose-built off-roader. Obviously, with performance being at the forefront, the Bronco Raptor is the least efficient model in the Bronco lineup.
Official fuel economy figures for the Bronco Raptor have dropped and they're terrible. The SUV is rated at 15 mpg in the city, 16 mpg on the highway, and 15 mpg combined. The 15-mpg combined figure matches the F-150 Raptor and is only 1 mpg better than the Jeep Wrangler Rubicon 392. It's surprising, because the F-150 Raptor comes with a 450-hp twin-turbo 3.5-liter V6 engine, while the Wrangler Rubicon 392 features a 6.4-liter V8 that's rated at 470 hp.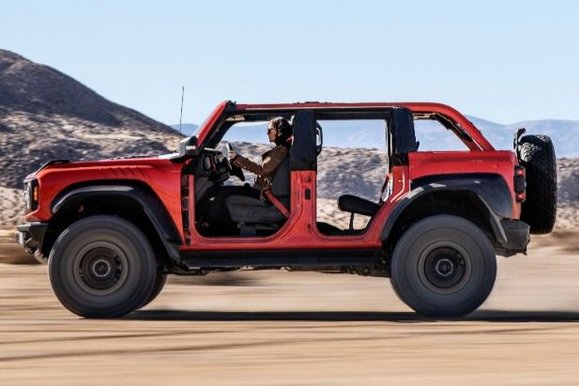 For comparison, the most efficient Bronco comes with a turbocharged 2.3-liter four-cylinder engine and can get up to 20 mpg combined. Compared to the most efficient Bronco, the EPA estimates that the Raptor will cost approximately $1,150 more to fuel annually based on 15,000 miles annually and 55% of city driving. Of course, buyers that are shelling out $70,095 (with destination) for a Bronco Raptor or using the vehicle for its intended purpose won't care about fuel economy.
Buyers with the money that are willing to live with the SUV's poor fuel economy figures are in for a treat. The Bronco Raptor promises to be the most capable Bronco in the lineup and is aimed at drivers that want to hit high speeds over sandy terrain. The SUV comes with BFGoodright KO2 all-terrain tires, Dana 44 front and Dana 50 rear axles, Fox Racing shocks, 14 inches of rear suspension travel, a 67.8:1 crawl ratio, and new Baja drive mode to fly over sand dunes.
Pricing for the Bronco Raptor starts at $70,095. Deliveries of the SUV are expected to begin this summer.
Pictured: Ford Bronco Raptor