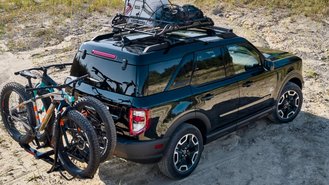 Bronco Sports are so popular that Ford has changed its rules for selling special demo units sitting at your local lot. As a result, dealers may be better able to meet the extraordinary level of demand for the brand's newest small crossover SUV.
According to a letter sent to dealers last Thursday, Ford is now allowing dealers to immediately sell Bronco Sports that are part of its "Mannequin Program." The program, launched last June, involves up to two SUVs per dealer built to a pre-selected configuration.
Previously, these vehicles needed to be "in service" for 4 months or 4,000 miles. Now, that requirement has been eliminated. Ford says the decision was based on a combination of dealer and customer feedback, "allowing dealers to sell to end-users immediately."
The limits on Bronco Sport Mannequin models have resulted in some sticky situations. For example, ABC Action News reported on a case back in January involving a Florida man who was accidentally sold a Mannequin model and was asked to return it.
While dealers will still have discretion over whether or not to even take advantage of this option, it could potentially avoid a situation like the one in Florida. Bronco Sports have been in extremely high demand, resulting in mark-ups as high as $10,000.
Unlike the highly-anticipated Bronco SUV, the Bronco Sport has some key differences as well as a lower price. That said, despite having a handful of offers, we found that the Bronco Sport can actually be a worse deal than the Bronco when leased.