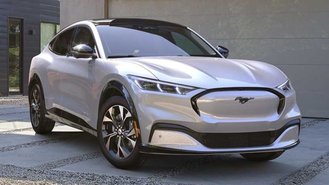 For Tesla owners with a pet, the automaker's Dog Mode is a unique feature that makes its electric cars more desirable. Since Tesla pushed the feature through an over-the-air software update in 2019, it's the only automaker to have the feature. According to a U.S. patent from 2018 that a member of the Lighting Owner's forum recently found, Ford is looking into coming out with a "Pet Mode" feature for its vehicles.
The patent showcases a new Pet Mode that would "create a comfortable environment for a pet within the vehicle." Depending on the individual user's settings, Pet Mode could adjust various settings including lowering the windows, adjusting the HVAC system for a cooler or warmer cabin, activating the stereo, and folding down the rear seats. Ford's patent reveals that owners will be able to access Pet Mode through a smartphone app or the key fob by pressing the paw button.
It's interesting to see that Ford filed the patent in 2018 but still hasn't found a vehicle for the feature yet. In the future, if Ford decides to bring the feature to market, it will be interesting to see if the automaker offers it on all of its vehicles or just on electric cars.
In Teslas, Dog Mode leaves the vehicle's air conditioning or heater on when owners leave the vehicle. To enter into Dog Mode, owners have to enable Dog Mode in the vehicle's infotainment system under the climate control settings. The vehicle's infotainment system displays a message that reads: "My owner will be back soon." The message also states whether the heater or A/C is on and what the temperature is set at.
The only all-electric vehicles Ford currently sells are the Mustang Mach-E and F-150 Lightning. With Tesla introducing Dog Mode through an over-the-air update, we think Ford could do something similar for its electric cars. Most consumers that have pets consider their animals before purchasing a vehicle. Whether the car has enough space for their pet and their belongings, as well as any cool features that make things comfortable for their pet — like the Toyota 4Runner's rear liftgate window — can sway consumers to a specific vehicle. A new Pet Mode would help Ford's cars stand out.
Pictured: 2022 Ford Mustang Mach-e (Top), 2022 Tesla Model Y (Middle)