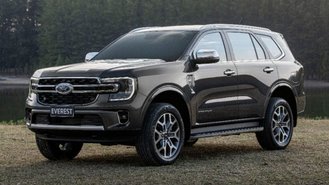 Ford has already taken the wraps off of the next-gen Ranger for its global markets but hasn't revealed the U.S. version of the upcoming pickup yet. Putting salt over the wound, Ford recently introduced the Everest, a body-on-frame SUV with the same underpinnings as the next-gen Ranger. While the midsize, three-row Everest looks great and would carve out its own place in Ford's lineup, it doesn't sound like the vehicle will make its way to the U.S.
Speaking with Motor Authority, Ford spokespeople told the outlet that the Everest wouldn't be sold here. That's not surprising, as the previous-gen Everest wasn't sold in the U.S. either. It's unfortunate, because the Everest certainly looks like it would give the Toyota 4Runner and Jeep Grand Cherokee L some competition, but it would bump heads with the Explorer. Instead, the Everest will be sold in Ford's markets where the Bronco and Explorer aren't available.
If anything, the new Everest gives us a good look at what's in store for the next-gen Ranger. The Everest wears C-shaped LED headlights and a grille that's split into two by a horizontal bar. Instead of the Ranger's chunky front bumper, the Everest trades it in for something that's more lowkey. Unlike the Ranger which features vertically oriented taillights with a C-shape, the Everest sports r-shaped taillights with a section that has vertical slats on the liftgate. Of course, the Everest has a cabin at the back instead of a bed and longer rear doors to make it easier to get into the back of the SUV.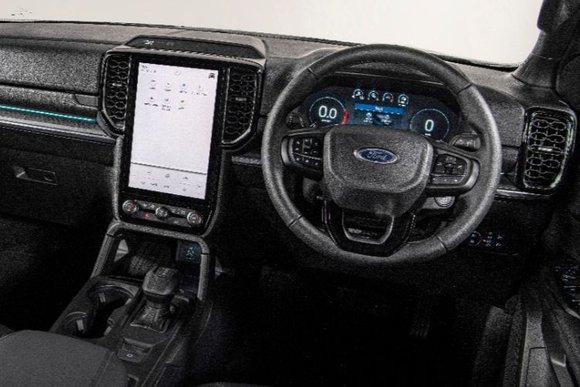 The interior of the Everest looks similar to what we've seen from the upcoming Ranger. The SUV has a simple interior design with large screens that range from 10.1 to 12 inches for the touchscreen and 8.0 to 12.4 inches for the digital instrument cluster. The main difference between the two models is that the Everest has a third row for seating up to seven, while the Ranger maxes out at five seats.
Ford will offer the Everest with three engines, two of which are diesels and won't be offered here with the upcoming Ranger. The Everest will be available with a turbocharged 2.3-liter four-cylinder engine in select markets, which we expect will also be used to power the next-gen Ranger. Depending on the model, the engine is available with either a six-speed automatic or a 10-speed automatic. When properly equipped, the Everest will be able to tow up to 7,700 pounds.
The Everest will go on sale globally later this year, while Ford still hasn't confirmed when the next-gen Ranger will go on sale in the U.S.
Build & Price Your Ford Ranger
Pictured: Ford Everest