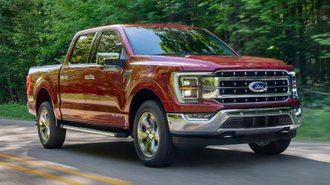 When Ford launched the all-new 2021 F-150 last July, the truck was missing a diesel option. The available 3.0-liter Power Stroke V6 engine was introduced with late availability, which was surprising, as Chevrolet and Ram both made sure their full-size pickups were available with diesel engines. Now, Ford's making another interesting decision by discontinuing the diesel engine for the F-150 after its short existence, reports Ford Authority.
The outlet first reported the news last week and Ford later confirmed the news to The Drive. With the death of the diesel engine, consumers now have a total of five engines to choose from. The options include a 3.3-liter V6, turbocharged 2.7-liter V6, turbocharged 3.5-liter V6, hybrid turbocharged 3.5-liter V6, and 5.0-liter V8.
The 3.0-liter Power Stroke V6 diesel engine is rated at 250 horsepower and 440 pound-feet of torque. Stout figures for a diesel engine in a full-size pickup, but the oil burner quickly became overshadowed by the available hybrid powertrain.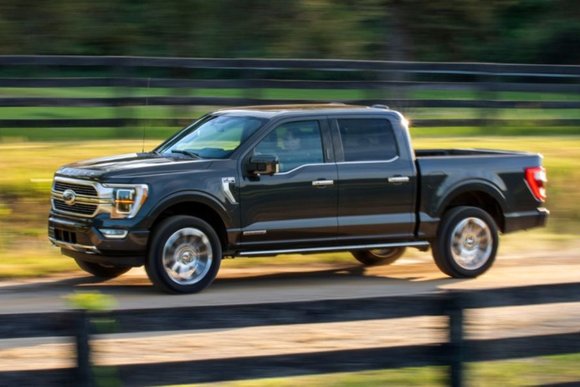 The diesel engine is available on XL, XLT, Lariat, King Ranch, and Platinum trims with four-wheel drive and ranges from being an extra $3,000 to $4,995. Ford did offer the diesel engine with a $500 equipment discount, bringing the cost of the powertrain down. With the diesel engine, the F-150 is rated to tow up to 12,100 pounds and has a payload capacity of 1,840 pounds.
While the Power Stroke V6 diesel engine offered globs of torque, it wasn't the front runner for towing or payload capacity. The hybrid V6 (12,700 pounds), V8 (13,000 pounds), and turbocharged 3.5-liter V6 (14,000 pounds) all offer higher towing and payload capacities than the diesel. Additionally, if fuel economy is what you're after, the hybrid powertrain is a better choice. With rear-wheel drive, the F-150 Hybrid is rated to get up to 25 mpg combined, while the diesel powertrain is rated at up to 23 mpg combined.
With the introduction of the all-electric F-150 Lightning and Mustang Mach-E, Ford is moving toward more electric vehicles and has plans to become carbon neutral by 2050. Offering a diesel powertrain doesn't exactly help the automaker with these goals. Ford didn't help the diesel engine's case, though. As Ford Authority points out, the diesel engine wasn't available with the 36-gallon extended range fuel tank or the automaker's Pro Power Onboard system.
Consumers interested in purchasing an F-150 with the diesel engine have until July 16 to place an order for a truck. After that, the diesel engine will be gone, probably forever. At least for the F-150.